The Brixx Partner Program
A fresh approach to making business decisions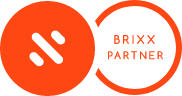 3 Pro licences
Add Pro licences at £149.50/year
Exclusive Partner benefits
---
£599/year
---
Why join The Brixx Partner Program?
Joining The Brixx Partner Program is your opportunity to offer a modern, collaborative and visual approach to business modelling for your clients. It gives you the ability to deliver additional valuable services and advice based around their business plans.
Deliver additional services and advice to your clients
Save time building business plans
Collaborate and share business models with clients
Develop further revenue and profit streams
Differentiate your business with Brixx Partnership
Promote your business with the Brixx Partner assets on your website
What's included in the Program?
Professional Licences
5 person team per licence
25 plans per licence
1-10 year financial models
All Brixx features
Client Management
Assign licences to your clients
Manage licences and permissions
Navigate easily between clients
Exclusive Partner Pricing
3x Pro licences included
Add more licences at an exclusive Partner Price of £149.50/year
Getting started with Brixx
Try the app with a 7-day free trial. When you are ready, you can purchase the Partner Program inside the app.

"We love Brixx! It's a brilliant application which is easy and intuitive to use. It's transformed the way in which we can discuss business planning with clients"
Peter Wood, Accounting Services for Business
Frequently asked questions
Can I buy more than 3 licences?
Yes! As a Brixx Partner additional Pro licences are available at an exclusive Partner Price of £149.50/year. You can add as many extra licences as you need.
Do I have to be an accountant to join The Brixx Partner Program?
No! If you're a business coach, consultant, franchise, business advisor, or many other roles, you can still become a Brixx Partner.
Can I use Brixx standalone?
Yes! Brixx is a standalone modelling tool including actuals vs forecast variance analysis. Brixx also integrates with Xero.
Is there any training required?
Brixx is intuitive and easy to adopt. We have guides for the App in our solutions area and a YouTube channel featuring tutorials. You can also get in touch with our Support Team if you have any unanswered questions.