FINANCIAL PLANS
MADE EASY
Detailed forecasts for startups, small businesses and accountants.
Plan your cash flow and create beautiful charts and reports.
FREE FOREVER ACCOUNT
8+char
Numbers/special
Uppercase
Lowercase
SAVE TIME ON YOUR NUMBERS

Professional reports
Reports designed by experts to cover every area of your business.

Synced numbers
Make a change and all reports and charts update. It's magic.

Easy planning
No financial expertise is required. Just bring your business idea.

Quick export
Export reports in any date range to png, pdf or Excel.

Strategic modelling
Plan for the future and put your business finances to the test.

Online plans
Access from any computer with an internet connection.
POWERFUL RESULTS IN SIMPLE WAYS
Templates guide you through every part of your business plan.
From forecasting your sales to calculating funding requirements, our simple templates allow you to model complex activities in really easy ways. This enables anyone to turn their business into numbers without having accounting expertise.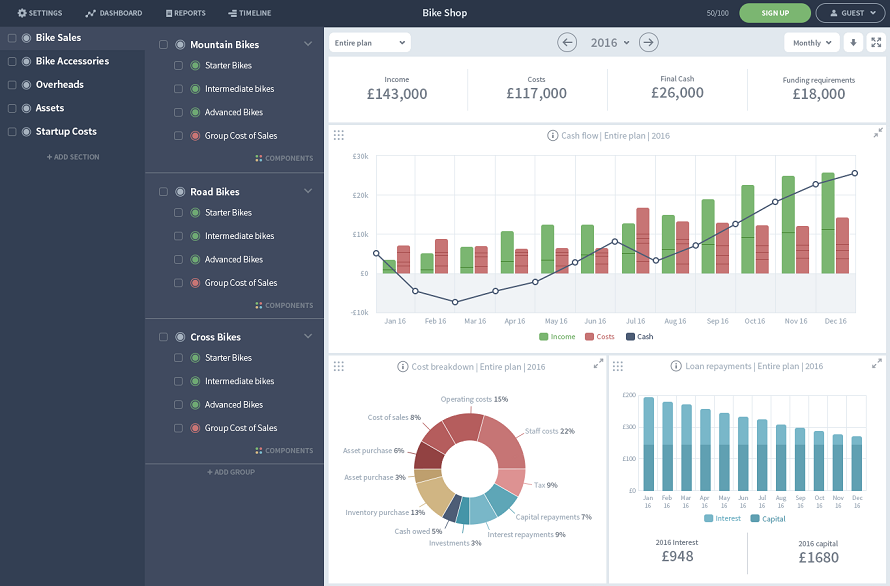 WRITE A BETTER BUSINESS PLAN
WRITE A BETTER BUSINESS PLAN
When starting a new company, planning your cash flow over the next 12 months or more is critical.
You'll need to see different financial outcomes too. For example you'll need to understand the consequences of different price points or how your business might react to an increase in supplier costs.
Answer these key financial questions by modelling them in Brixx. It will help you persuade anyone that the numbers behind your business idea work. It's easier to write your business plan when you have confidence in your numbers.
(NOT SO) SCARY
FINANCIAL REPORTS
A wall of numbers in a spreadsheet can be intimidating. It doesn't need to be.
Spreadsheets are not easy to build or maintain. Fortunately, you don't configure reports in Brixx, it's already done for you. Not just the cash flow either, a full balance sheet, income statement and financial summary. Enter one set of numbers through our simple templates and all outputs are completed automatically.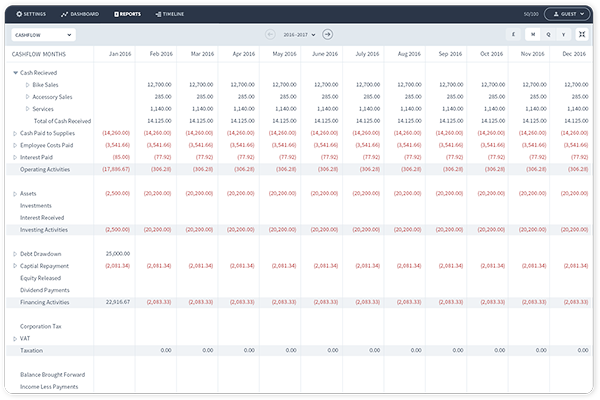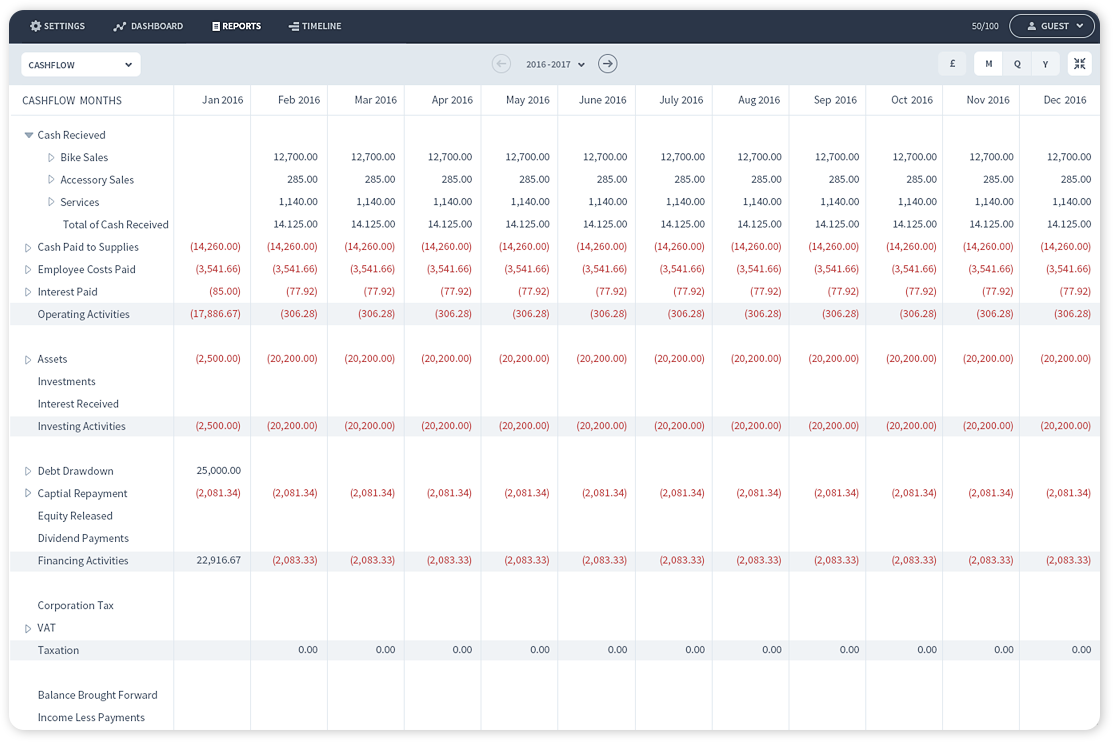 GET THE AERIAL VIEW
Brixx gives you a clear perspective on where your business is going.
Whether you are just starting out or you are already up and running, Brixx gives you the strategic view on where you are going and how you are going to get there. It will help you grow your business and choose the best direction to take.
IT'S FREE. NOT JUST FOR 30 DAYS, FOREVER.
We are proud to say that our Starter version is not a trial, it's a feature rich, truly free version.
STARTER
Short term forecasts to check the feasibility of your business ideas.
3 plans
1 year forecasts
Learn more
ENTREPRENEUR
Long term forecasts for small businesses and accountants.
10 plans
1-5 year forecasts
Learn more
WHO IS BRIXX FOR?
Startups
Check the feasibility of your business idea and prove it works financially. The free version helps you understand what your business finances might look like when you are up and running.
Calculate your startup costs and predict when your business will make it's first profit.
Business owners
If you are already up and running, we have the tools for you to forecast your growth and help you make better decisions about the future. Plan in more detail and forecast over longer periods to steer your business in the right direction.
Accountants
Brixx is also designed for accountants making business plans on behalf of other businesses. Get access to more plans with a subscription. Export reports to spreadsheets for further tweaking, chart creation and sharing.