Brixx has been making business modelling software for a long time. In the last two years, we've taken huge steps, taking our application into the online world. We're now over a year out of beta, with a lot of development complete but still many more features to include. It's an exciting time, as Brixx starts to truly reflect our dreams and aspirations for it.
Background: from face-to-face demos to SaaS
Today Brixx is a browser-based financial modelling app, aimed at startups, businesses and finance professionals. But previously Brixx was sold as a sector-specific product – with focussed solutions developed for different markets. This makes our story a bit different to other SaaS businesses – we had to translate an application that had been sold by a traditional method, the face-to-face demo, into an application that introduced itself.
In the past we would run demos, meeting directly with the people who would be using the software. What we found was really encouraging. Almost everyone we demonstrated the software to got it. They understood what was great about it, and throughout the demo, we were always able to show more features that were clearly useful and different to other planning applications. Now, that's all very well for a face-to-face demo, but translating this experience into an online SaaS business proved a challenge for us.
And we aren't alone here. Any software provider has to work hard to help people understand their software. To make it feel natural and to explain the features available without falling back on technical language, information overload or knowledge you can't just assume everyone has.
This is especially true for us. We aim to open up financial planning, relating financial transactions to real-world activities, and allow planners to build their business in the way they imagine it. Demystifying finance and achieving professional results in simple ways is our objective. So our software has to introduce itself and reveal its features in a clear, obvious way.
---
The first year out of Beta

Onboarding
I've got to admit, when we started our journey a few years ago I hadn't heard the term 'onboarding'. I'd been through the process many times as a customer but it's just a word I'd never encountered before. Onboarding is the process of familiarising a customer, client or user with the business's products and services – teaching them the ropes essentially.
We've still got a way to go on this front – but last year we took substantial steps to improve our onboarding. Creating a series of onboarding emails in February last year has proved a great way to get in contact with people, as well as give a series of step-by-step tips on how to get the most out of Brixx, and links to our guides and forums.
(I'm not sure how we decided my face should be in every email – but we've not had too many complaints about this yet)
Dashboard revamp
Our big release in spring was our new Dashboard. Visualising data is something that Brixx does well. On our initial release in 2016, our dashboard lacked a lot of the features we hoped to include. So our first priority in 2017 was to complete a dashboard project, redesigning every chart and adding in new automatically calculated 'headline' figures.
In addition, we added tooltips to provide more information on each chart, a new design for navigating between plan years and most importantly the dashboard 'spotlight', which lets you select a part of your plan to exclusively report on in the dashboard. We had some challenges to overcome in accomplishing this – most notably the handling of VAT, which needed to be reworked for the new dashboard. But the results were well worth the time we spent. The Brixx dashboard is the face of the app – and we're proud of the functionality it now delivers for both immediate feedback and plan analysis.
New component options
Alongside the dashboard development, we made some useful additions to several components – the building blocks that make up Brixx plans. The Employee component saw new inputs for pension contributions and National Insurance payments, while several components gained new VAT options, allowing the prices entered to be VAT inclusive or exclusive. Two VAT rates can now be set globally, with custom rates enterable in every VAT-applicable component.
Account revamp
Last summer we refreshed our account pages. This may seem like a small piece of housekeeping – but was also a major rehaul of how we handle the non-plan side of the application. In addition, we began to use a new development framework with the aim of speeding up many parts of the interface and laying the groundwork for plan collaboration in 2018.
Initially, our account area was very basic – with only the minimum information being presented. We've now added information on subscription renewals and end dates, as well as some subscription management options within the account area itself.
Alongside this, we added plan logos so that plans could be easily identified and personalised.
The final phase of the account revamp was adding a Bike Shop Demo plan to the account area. We had used this demo plan on the website for some time as a live demonstration of how Brixx works. But adding this as an option to view in the account area provides a ready example of how to structure a plan, and how inputs and outputs link together through structure and reports.
New plan template and UI improvements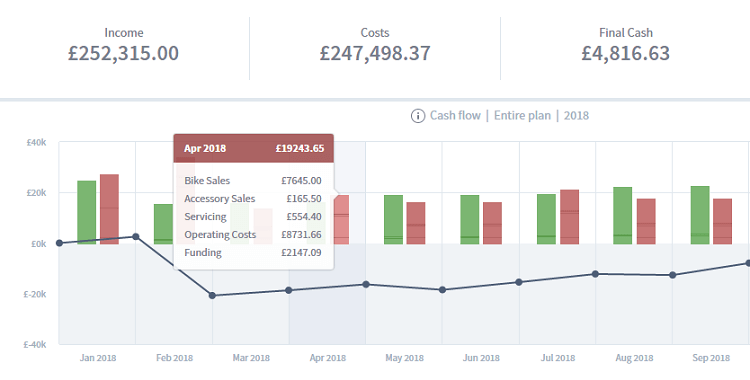 Our last update of 2017 came in August. As I mentioned earlier, one of our biggest challenges is translating a product that demos extremely well face-to-face into one the introduces its features by itself. The structure Brixx plans is key to one of the greatest benefits of our way of planning. Put simply – the way you build your plan is replicated in the reports and dashboard, which mirror the structure you build.
We introduced a new basic structure template, which pre-populates plans with a set of sections, groups and components that can form the basis of any business plan. These include:
Income and associated direct costs of sale
Operating costs like rent and insurance
Staff salaries
Marketing costs
Funding from loans
You can still start a blank plan if you want, or add and delete items as you wish. We have good grounds to believe this contributed to a successful autumn, giving people new to Brixx a stronger footing in how the software works from the start.
We also took the opportunity to improve the clarity of our interface, replacing icons and calls to action with ones that are (hopefully!) easier to understand at a glance.
Social media, SEO and blogging
One of the biggest investments we made this year outside of the app has been in the website and blog. We've always had the advantages of a strong name and a .com URL but in the past, we made no strenuous attempts to improve our SEO. This year we have undertaken a lot of backend website work and spent a lot of time developing our blog.
Prior to 2017, our blogging had been pretty sporadic. We knew this had to change – but before it had just seemed such a drain on our resources. We're a relatively small company – how could we afford to spend time just writing each week when we could be specifying, building and testing new features for our software?
Though it seemed arduous at the time I'm very glad we did decide to focus on building up a library of content. We've written on a lot of diverse topics related to planning and running small businesses. In the course of researching our articles we've learned a lot ourselves too!
Of course, as well as providing advice on the software and planning tips, blogging also has a great side effect. We've tried to target our blog posts to the kinds of people we think would love to use Brixx – and this, in turn, has improved our search engine ranking. As a Literature graduate, it always seemed awful to me that I would spend my time writing articles that only Google's robot crawlers would read, but changes in the way search engines look for results mean that good, useful content is rewarded with high positions in search results. While there are definitely still tricks of the trade to be learned in content marketing, the most important rule now seems to be: create great, useful content. And that is something that we can get behind.
Under the umbrella of digital marketing, we have also been a lot more active on Facebook and Twitter than we were previously. It's been great to start building communities in these spaces and fun to meet new people and businesses.
---
The year ahead
We have so many things planned for this year it's going to be hard to fit them all in! But we'll try to bring as many new features and tools to the app as we can.
The first thing we have planned is a major increase in the speed and responsiveness of the app. This has turned into a huge project for us, reimagining the way the interface deals with data. This work is undergoing testing right now – and I'm looking forward to releasing it in the next few months.
So far our development has been driven by a combination of necessity (introducing features we really feel are core to the product) and feedback. As a relatively young online business we have been lucky to get so many early adopters and we've taken all of their feedback and requests seriously. In the year ahead we hope to deliver a lot of the big features that Brixx customers have been requesting, including…
Actuals
Flexes
Plan sharing
Integration
New components
We'll keep you posted with new releases and articles here on the blog, and in our forum. Here's to another great 12 months – keep planning 😉