This week we're taking a look ahead to some of the most popular conferences in the UK and Ireland this autumn. Whether you are looking for accounting events, starting a business or diving into marketing, there are a lot of options available!
---
The Best Accounting Seminars & Conferences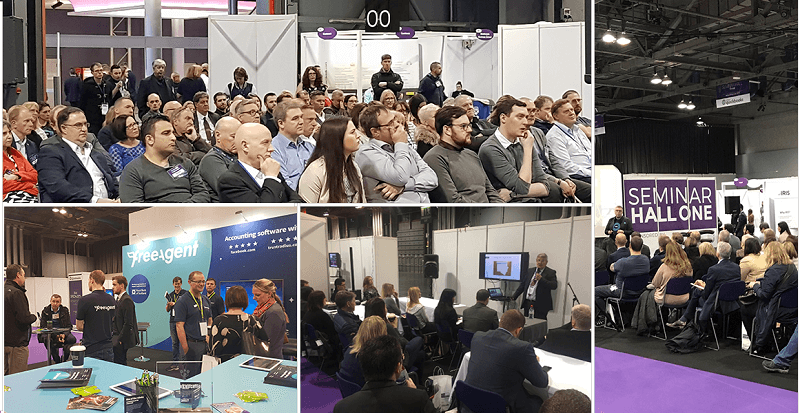 Accounting Live 2018 (Glasgow, Nov)
Dates: 21-22 November 2018
Venue: SEC Centre, Glasgow, G3 8YW
Website: https://accountinglive.co.uk/
Keynote speakers: Steve Pipe, Ed Molyneux, Gary Turner, Karen Reyburn
Set in Glasgow, this free 2-day event is the networking event for Scotland's accounting and finance professionals, with 60 seminars and workshops, and 80 exhibitors keen to showcase their latest solutions. Enhance your skills, get free, expert advice, and hear what experts in the field have to say about the future of the accounting industry.
Bookkeepers Summit 2018 (London, Oct)
Dates: 16-17 October 2018
Venue: QEII Conference Centre, London, SW1P 3EE
Website: https://www.bookkeepers.org.uk/About-Us/Bookkeepers-Summit
Keynote speakers: TBA
Dedicated entirely to bookkeepers, this 22-day event includes masterclasses, keynote presentations and breakout sessions. Attendees will discover the best ways to move their bookkeeping practices forward, the hottest new technologies the accounting profession is embracing and also find support and guidance from other bookkeepers and accountancy professionals.
Xerocon London 2018 (London, Nov)
Dates: 14-15 November 2018
Venue: ExCel, London, E16 1XL
Website: https://www.xero.com/uk/events/xerocon/london-2018/
Keynote speakers: TBA
Xerocon (London Edition) is a 2-day conference hosted by the cloud accounting superstars Xero, with star speakers and a lot of opportunities to network with advisors and other attendees. Expect the big upcoming news stories in the accounting world to break here. Of course, this is the best place to talk Xero, Xero add-ons and accounting technology, as well as learn some new tricks to optimise your processes and financial reporting. There's also a party…
---
Here are some great Startup events in 2018
UPRISE Festival Europe (Dublin, Oct)
Dates: 17-18 October 2018
Venue: The Richmond, Brunswick St North, Arran Quay, Dublin 7, Ireland
Website: TBA
Keynote speakers: Amy Neale, Didem Un Ates, Angelique Mohring, Marek Fodor
People first – tech second! Workshops, solo talks, panels and round-table discussions are the basis of this vibrant 2 day festival of business. But the real fuel of the event are the entrepreneurs themselves, the Y100 young innovator program, opportunities to connect with experts and investors and brand matchmaking for your business.
StartUp Summit (Edinburgh, Oct)
Date: 31 October 2018
Venue: Assembly Rooms, Edinburgh, EH2 2LR
Website: https://www.startup-summit.com/
Keynote speakers: Alan Mahon, Vicky Brock, Mike Welch
Scotland's leading startup event aims to cover everything a budding startup needs to get going, from marketing to funding to workspace culture. SUS18 has 3 stages where inspirational leaders share their advice, experiences and personal stories of how they got started. Practical, actionable advice is the name of the game at this summit, where startups and small business owners can benefit from a wide range of expertise.
The Business Startup Show (London, Nov)
Dates: 14-15 November 2018
Venue: ExCel, London, E16 1XL
Website: http://bstartup.com/
Keynote speakers: Simon Woodroffe, Steven Smith, Rachel Elnaugh, Penny Power
This show is always a great experience – and this November's Business Startup Show will be no exception. This show brings together (both in terms of education and networking) the best of the business software world and the energetic startup mentoring community. Expect investors, star-studded roster keynote speakers, seminars and masterclasses.
---
Or how about a Marketing Conference?
Festival of Marketing (London, Oct)
Dates: 10-11 October 2018
Venue: Tobacco Dock, London, E1W 2SF
Website: https://www.festivalofmarketing.com/
Keynote speakers: Jules Lund, Martina Longueira, Spencer Waldron
This 2 day festival aims to blend inspiration and practical application together to create a festival atmosphere brimming with ideas and meaningful speakers. Dedicated workshops on a range of topics let you explore issues key to you in depth, while over 250 expert speakers at the 12 stages will hold debates and discussions on every aspect of marketing, from content marketing, to print advertising, to customer experience.
Social Media Week (London, Nov)
Dates: 14-16 November 2018
Venue: QEII Conference Centre, London, SW1P 3EE
Website: https://socialmediaweek.org/london/
Keynote speakers: Joel Backaler, Toby Daniels, Shannon Maclean Arnott, David Schneider
#SMWLDN is London's premier media and digital marketing event. Passionate speakers delve into the emerging trends and innovations of social media while sticking to this year's theme of the increasing dissonance between individualism and community. Expect representation from, and analysis of the major platforms, including Facebook, Snapchat, Twitter and Instagram. Learn how to grow, engage and delight your audience, understand how to work with influencers and future-proof your strategy. It's sure to be an exciting, thought-provoking week.
eCommerce Show North (Manchester, Nov)
Dates: 6-7 November 2018
Venue: Eventcity, Manchester, M41 7TB
Website: https://ecommerceshownorth.co.uk/
Keynote speakers: Zakie Beg, Fergus Campbell, Ted Hettich, John Munnelly
eCSN hosts specialists from all theatres of the eCommerce industry, and is the biggest UK gathering of these professionals outside of London. Expects seminars, talks, expert panels and 120+ exhibitors ready to help you with your online businesses, provide solid advice on navigating online selling pitfalls and identify the best tools of the trade.
---
Join our newsletter below for regular updates on all aspects of running a business 😉