Introducing the Brixx Partner Program. Financial forecasting is critical to business success and as with any task, it is important that you use the right tools for the job.
Not only does cash flow modelling and scenario analysis help you set goals and plan for your business's future, having accurate data and statistics to analyze can provide valuable insight on what the business needs to increase its success.
An array of tools and platforms exist that now allow businesses of any type and size to more easily and more effectively run their business projection models and plan for their goals.
Brixx is an easy to use financial modelling app that allows startups, businesses and accountants the ability to explore how todays' decisions will affect future business opportunities and outcomes – test drive the Bike Shop Demo today.
In this post, I'll be covering…
Why Brixx is a financial modelling tool perfect for startups, businesses and accountants
The Brixx Partner Program gives accountants, advisors and coaches the ability to deliver additional valuable services and advice to clients
What the Brixx Partner Program includes
Final thoughts
If you are looking for more information on Financial Forecasting, we have a number of resources in our Forecasting Fundamentals series that take you through:
---
Why Brixx is a financial modelling tool perfect for startups, businesses and accountants
Brixx helps businesses of all kinds and sizes rapidly model financial forecasting scenarios with ease. This financial modelling tool allows businesses, startups and accountants to know how today's business decisions will impact the future bottom line. It is designed for every stage of business, helping customers create comprehensive financial models and long-term cash flow forecasts that go beyond the scope of traditional Excel spreadsheet forecasts.
A user-friendly software, Brixx helps users build detailed cash flow forecasts quickly, without needing to be an expert. It allows users to plan all income, expenditure, assets and funding; visualize financial activities; forecast monthly up to 10 years in the future and more.
Additionally, Brixx allows businesses to forecast and rapidly model "what if" scenarios with ease by integrating with Xero (officially certified as carbon neutral as of 2021 – read more here). This feature allows Xero users to update actuals on demand for easy comparison to create cash flow forecasts.
---
Standard Features
Cash flow projections
Professional reports
Forecast calculators
Scenario testing
Financial timelines
Teams, sharing & collaboration
The complete picture
And more…
We offer a number of Pricing Plans to suit your startup or business needs as well as an exclusive Partner Program pricing structure for accountants and other business professionals that need to manage multiple clients.
If you have a free afternoon, we've stumbled across a podcast by John Ashcroft (@jkaonline) called "The Saturday Economist Live" that focuses on updates on the UK and World Economy that you might be interested in.
---
Cash flow projections
Track your business cash
Create 10 year forecasts that inform key strategic business decisions
See all cash in & out in detailed charts & reports
Works for all industries and both product or service businesses
Set assumptions around payment terms
---
Professional reports
Automated accounting
Profit & Loss, Balance sheet and Cash flow
Smart, professional layouts
Break down rows to trace the origin of any number
Double entry accounting handled for you
Change an activity and all reports update
---
Forecast calculators
Easy numbers
Forecasts are made from modular components
Each component calculates a salary, loan or sales for example
The accounting is seamlessly completed behind the scenes
Build complex financial plans with simple building blocks
---
Scenario testing
Explore 'what ifs'
Highly flexible for rapidly testing changes
Copy entire plans or parts of plans to create variations quickly
Switch on or off different parts of your plan
Easily add new projects separate to normal business activities
---
Financial timeline
Control time
A project timeline view for all business activities
Each row controls when figures impact your reports
Drag and drop start or end dates
Shift entire projects in time
Perfect for testing date sensitive scenarios
---
Teams, sharing & collaboration
Presentations
Add a team of 5 collaborators to your account, controlled by a team owner who can set individual permissions for each plan. People can live collaborate together and use the version history tool to track changes and view earlier versions of a plan. In addition, add as many free viewers as you like with non-team member access.
---
The complete picture
Visualise your business
One clear view that everyone in the team can see, understand and have a conversation around without requiring a financial expert to navigate or explain. It's a visual picture of your business.
---
The Brixx Partner Program gives accountants, advisors and coaches the ability to deliver additional valuable services and advice to clients
What is the Brixx Partner Program?
The Brixx Partner Program is a way for accountants, advisors, business coaches etc. to help their clients plan for their business' future. It gives you the ability to deliver additional valuable services and advice based around their business plans. It is perfect for anyone needing to do plans and forecasts over multiple customers and run and manage them in tandem.
With the Brixx Partner Program you can:
Deliver additional services and advice to your clients
Save time building business plans
Collaborate and share business models with clients
Develop further revenue and profit streams
Differentiate your business with Brixx Partnership
Promote your business with the Brixx Partner assets on your website
---
Why join The Brixx Partner Program?
Joining the Brixx Partner Program is your opportunity to offer a modern, collaborative and visual approach to business modelling for your clients. With crystal clear financial forecasting, multiple scenario modelling, extensive cash flow forecasting and the ability to create eye-catching charts and reports, Brixx is a forward-thinking tool for forward-thinking businesses.
Not only do Brixx Partner Program members receive the standard benefits of Brixx, there are a number of exclusive benefits on offer, including:
The ability to manage client plans from a single dashboard
Each client plan is each siloed away from each other to allow work on sensitive data
The ability to easily toggle between accounts and plans
New organizations can be set up with ease
And more…
In addition to these, the Brixx Partner Program offers its members a number of revenue-generating opportunities. Some of these include, but are by no means limited to:
Accountants, coaches, etc can choose to distribute licences to their clients.

As a free offer
Rolling them into service charges and billing
Or upselling them as optional "add-ons" by setting their own pricing

Reducing churn in the customer base
Modernizing and automating accounting services that eat into time and profit
Whether you as an accountant, business coach, advisor or planner are looking to upsell your clients on forecasting, separate yourself from the competition or modernize your business – the Brixx Partner Program is a modern tool designed to make client life (and yours) a lot easier.
---
What can the Brixx Partner Program do for you?
A forward-looking tool, for forward-thinking businesses.
Help your clients reach their goals.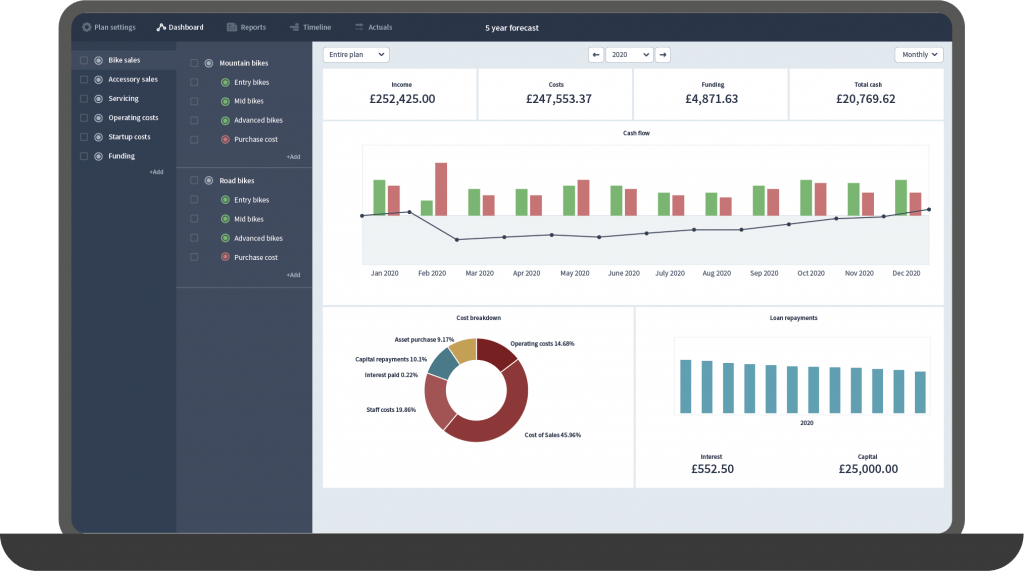 Business owners are planning the future and they need the help in making the right financial decisions. That's where you come in. Brixx will help you guide them towards the right path for their business.
It's super easy to visualise a businesses financial future and model the impact of different choices. Provide clear and confident advice, backed up by the numbers.
Model "what-if" scenarios in real time
Answer key questions on the spot, not a week later.
A Brixx model is flexible and easy to use. It's designed for rapid scenario modelling in real-time.
Adjust scenarios in the moment to get immediate answers so everyone can leave meetings with clarity.
Spend more time adding value
No more lost days battling a spreadsheet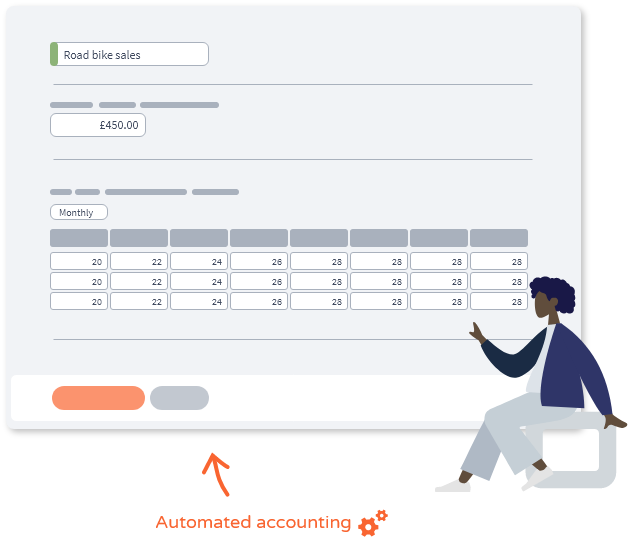 Using Brixx means you no longer have to spend time on double-entry accounting, building formulas or checking the integrity of your model.
We handle all of this for you, so you can focus on business modelling and delivering value to your clients. As it should be.
A full set of reports that are easy to follow.
Bottom up profit & loss, cash flow and balance sheet statements.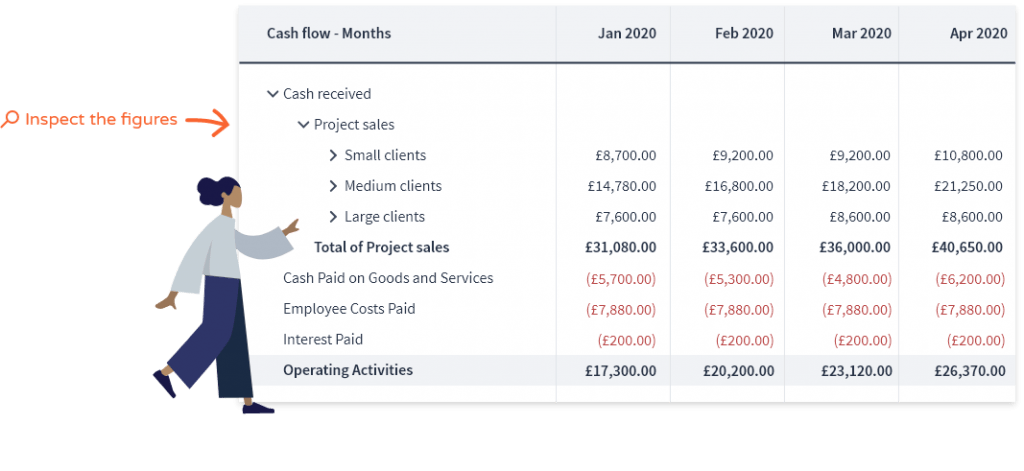 Reports generate on the fly from your model and any line can be opened up to reveal the level of detail about your business. It makes projections very easy to understand and interrogate. Actions in the business can be clearly linked to the results in the reports. No more; "Where did that number come from?".
Financial projections for business plans & investor packs
Help your clients secure investment with a sound set of numbers.
Export Brixx reports and charts up to 10 years long to include in presentation documents. Our tool is focussed around giving business owners clarity and confidence in their figures, lending strength to their presentations.
PP Subscription includes – professional licence; 5 team members; build up to 25 plans per organization
Can add clients and relevant people to specific accounts for collaboration/reporting
---
What the Brixx partner Program includes
The Brixx Partner Program is a fresh approach to making business decisions with a pricing structure to suit the number of plans you need.
10 Plans – £499.00 year, billed annually 
15 Plans – £748.50 year, billed annually
20 Plans – £998.00 year, billed annually
30 Plans – £1 347.30 year, billed annually (10% Off)
40 Plans – £1 796.40 year, billed annually (10% Off)
50 Plans – £2 245.50 year, billed annually (10% Off)
Unlimited

 organisations

1 – 10 year forecasts

Unlimited sharing

Full report suite

Financial dashboard

3 way forecasting

Actuals vs Forecast

Xero integration

40-min onboarding call

Account Manager
Here are a few answers to the common questions surrounding our Partner Program
Can I use Brixx now?
Do I have to be an accountant to join The Brixx Partner Program?
No! If you're a business coach, consultant, franchise, business advisor, or many other roles, you can still become a Brixx Partner.
Can I use Brixx standalone?
Yes! Brixx is a standalone modelling tool including actuals vs forecast variance analysis. Brixx also integrates with Xero.
Is there any training required?
Brixx is intuitive and easy to adopt. We have guides for the App in our solutions area and a YouTube channel featuring tutorials. You can also get in touch with our Support Team if you have any unanswered questions.
You can book a call with our team to discuss Brixx and our Partner Program benefits or, with a 7 Day FREE Trial, you can explore the features of Brixx without any obligation. 
---
Final thoughts
So by now you know that Brixx is more than just a financial modelling software for startups and businesses, our Partner Program is an asset to those needing to manage multiple clients at a time, such as accountants. We encourage you to try out Brixx for yourself with a Free 7 Day Trial or book a call with us to discuss how our Partner Program can help your clients. 
Remember to take a look at our Forecasting Fundamentals series for all of your forecasting related questions, beginning with "What is Financial Forecasting?"