In The Brixx Insider #1 we went through our primary goals for the Xero integration:
Creating a new forecast from historical accounts

Matching your Brixx forecast with Xero actuals as they come in
In this article, I'd like to jump into forecast creation in more depth. I'll show you some of the ways you'll be able to model your business using your Xero data. It'll give you some insight into our design decisions and the way we've been approaching this integration.
Finally, I'll give you an update on when we'll be launching our beta!
---
The challenge – creating a model, not a forecast
We're a modelling tool. In Brixx you don't build a forecast, you build a model of your business that outputs a forecast. It's a subtle difference but it's an important one, especially for this integration.
Manipulating this model allows you to rapidly adjust forecasts on the fly, something that is far more difficult if you were to try and manipulate a forecast directly.
It's really important to us that we retain that flexibility whilst being able to work with the actual data organised by the Xero chart of accounts.
So our challenge has been taking a Xero chart of accounts and turning this into a model that isn't locked down or limited by these accounts.
Historical accounts organise the past. Forecasts should be informed by the past but shouldn't be held back by what has happened.
We are giving you the flexibility to model new activities and perhaps even run experiments outside of your chart of accounts until they become more concrete.
So, let's dive into how we are achieving this.
---
Based on your chart of accounts but not constrained by it
When you create a new forecast from Xero data, you'll import your chart of accounts and match it to the equivalents in Brixx. We use our standard Profit & Loss and Balance Sheet headings for this purpose.
This ensures we can compare Xero actuals with the Brixx forecast going forward.
Most of this matching will be done automatically and you'll just need to check through to make sure it all looks sensible.
If you choose to, your forecast can be filled with 12 months of prior data with some top-level adjustments to get you started.
Based on this matching, we'll create a Brixx model. This initial model will have components named after your Xero accounts. A one to one match.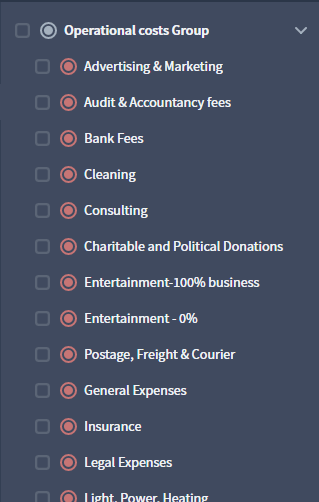 For example, a Xero expense account called 469 Rent will create a Brixx operational cost component called Rent.
If you're happy with this level of detail, you don't need to make any further structural changes. Adjust your forecast as you see fit and you're away!
However, we've designed this to ensure you can go beyond this one to one matching.
Let's say you've got an account called 400 Advertising and Marketing. Initially, this will create an operational cost component called Advertising and Marketing.
However, you could delete this component and replace it with 5 new ones called:
Adwords
Facebook adverts
Display adverts
Content creation
Direct sales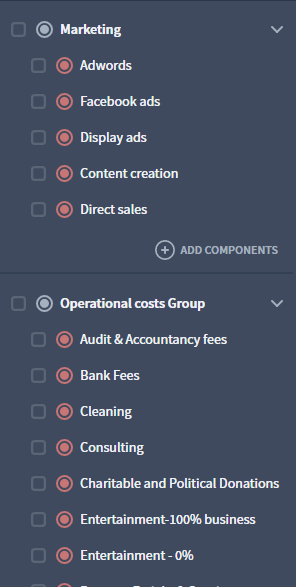 These can all be matched to your 400 Advertising and Marketing account. So you can forecast in more detail in your Brixx model, without having to make any changes to your Xero chart of accounts.
This works with every type of component in Brixx. You could add 7 employee components:
John
Jane
Ralph
Eva
George
Future employee 1
Future employee 2
All of these could be matched to a Xero 477 Salaries account. This means that in your actual vs forecast report, the total of those 7 Brixx employee salaries will automatically match against the actual 477 Salaries number coming from Xero.
So, you can work underneath each of your Xero accounts in as much detail as you like.
If you have more Xero salary accounts for different teams/salary grades/offices you could choose which employee components are matched to each account.
John – 478 Management Salaries
Jane – 478 Management Salaries
Ralph – 477 Salaries
Eva – 477 Salaries
George – 477 Salaries
Future employee 1 – 477 Salaries
Future employee 2 – 477 Salaries
Splitting your model out into individual employees allows you to plan your future hires, taking advantage of the Brixx timeline to adjust start dates and their financial impacts.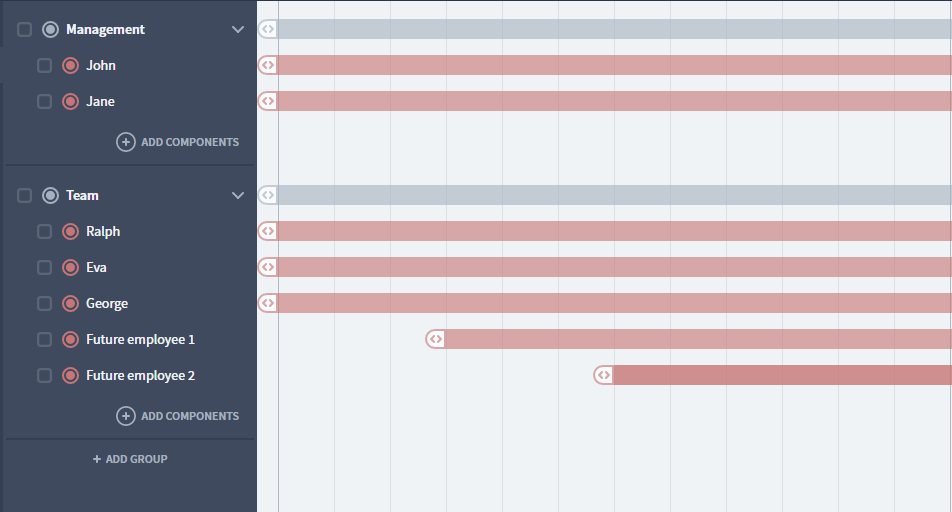 ---
Working outside of your Chart of Accounts
When working with your Brixx model, you aren't obligated to choose any existing Xero account at all if you don't want to.
You can add components to your Brixx model (like the future employees described earlier) without needing to state where they belong in your Xero chart of accounts. The top reporting account level will automatically match up without needing this information. This means you can freely explore these activities without having to think about how they'll fit into your existing categories.
This can be done later on if you want to match actuals vs forecast in more detail.
We believe this will help reduce the barriers to regular forecasting. You won't have to think about how you account for an activity before you've even decided to do it in reality.
---
How does this look in reports?
Brixx forecast reports will look the same as they do now. You are presented with the top-level accounts and then you drill into the structure of your plan for more detail.
When comparing Actuals vs Forecast, we've developed a new layer in between the top-level account and your Brixx structure. This layer is your Xero accounts.
This extra level of drill down means you'll be able to very clearly recognise the historical figures you expect from Xero. You can then drill into these accounts to see the Brixx structure underneath.
This is where you'll see any extra detail you've added in your Brixx model.
---
Beta release progress
We're nearly there.
Sorry for not being more specific, let me give you more details on what we're doing:
We've spent a lot of time in recent months ensuring that the matching process is seamless and bug-free. We've not had a huge amount to update you on because this has been complicated technical work in the background with little to actually show visually.
Thankfully, this is nearing the end now.
We're currently fixing final bugs and improving the UI. Once the UI work has passed our testing we'll be able to give you a solid beta release date. If all goes well, we may have more news as soon as next week.
Thank you for your patience, we know a lot of people are very keen on this integration and so are we!