This year is set to be our busiest development year yet at Brixx.
A year ago we had just released an update to the Account/Plans area – it seems a lifetime ago now!
Last month we introduced major speed improvements and new component options. The next few weeks will see several more major features added to the app – but in this week's post we're taking a look at the longer view as well.
At the risk of making a plan and sticking to it, here's our to-do list:
Coming soon…
Sharing & Collaboration
We're very excited for this update. Plan sharing has been our most requested feature (just behind Xero integration 😉 ) and we aim to deliver this feature complete with Google Drive-style collaboration.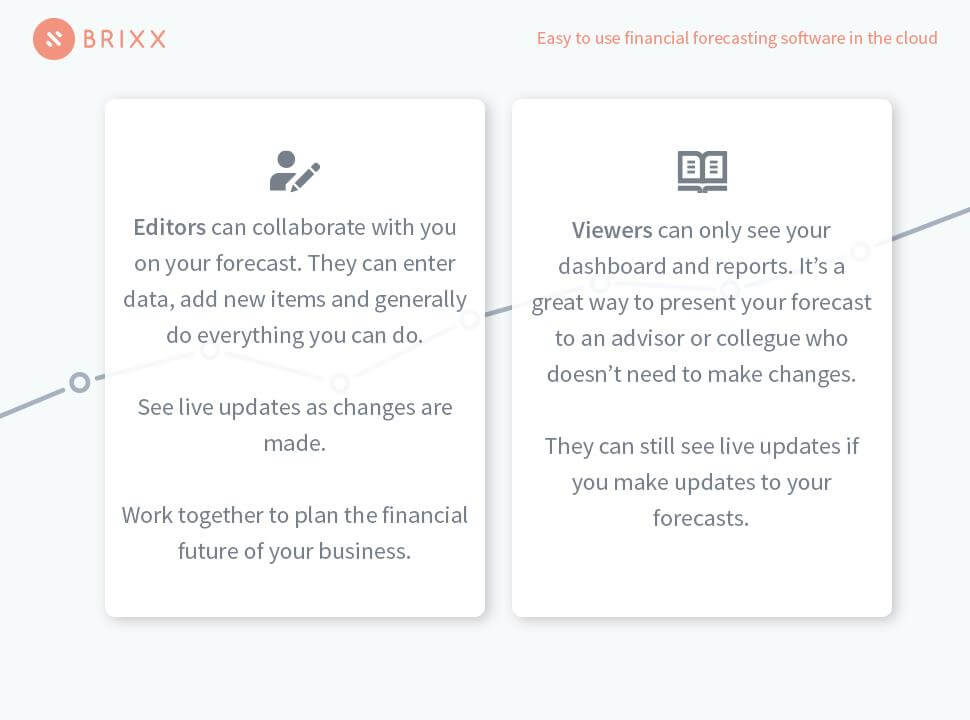 Version History
Once you have several people able to edit a single plan knowing who made changes and when they made becomes even more important than in a private, one-person plan. The Version History feature will record changes made in the plan, who made them and when.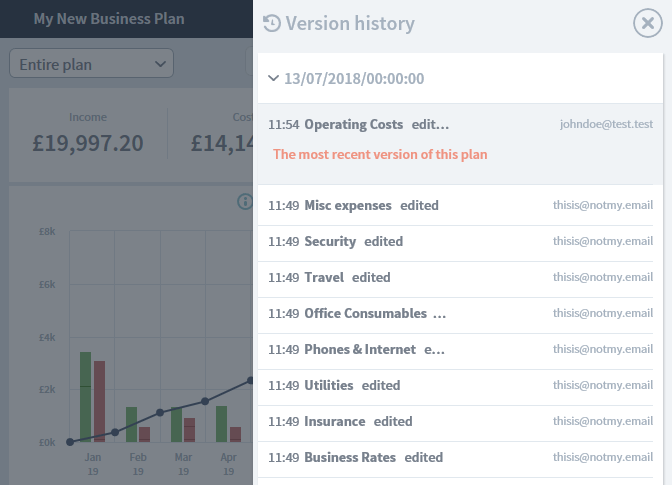 Version Restore
Not only does Version History allow you to see changes made in the plan, you will be able go back and view the plan as it was in the past – and then restore that version of the plan if you wish. Your changes after the restoration point won't be lost – you can easily return to the pre-restoration versions of the plan too.
Product Detail Report
These will be our first new reports since launch! The first, Product Detail, zooms in on Income components in the plan – showing the VAT-inclusive cash generated by every Income component in the plan, broken down by Section and Group.
Overheads Report
The Overheads report shows the cash outputs of all Employee and Operational Cost components in the plan, broken down by Section and Group.
Up next…
Team accounts and user management
"Sharing Part 2" will introduce user management, new Team accounts with multiple users rolled in, and still work with the same sharing and collaboration features we will have already introduced.
10 Year Plans
Personally, I love long term planning (not everyone in the office agrees!). Even 5 years is starting to seem short term! In a 10 year plan Brixx does even more of the heavy lifting for you, with inflation assumptions, product pricing, investment growth, depreciation and loan calculation fields all allowing you to make simple changes and see their effects over a long period.
Followed by…
Actuals vs forecast
Our big challenge with Actuals vs Forecast is not building it, but choosing which version to build! There are so many useful options that we could introduce. Like sharing, this is likely to be a 2-phase project.
Xero integration
Pulling actual data in from Xero is our first target for developing the Brixx Actuals feature. Following Xero integration, we will be looking into linking to other packages.
Corporation Tax
Corporation Tax isn't currently calculated in Brixx plans. We're working developing this – and hope to introduce it later this year!
---
As well as having our noses to the grindstone testing some great new updates, we've also been spending some of our free time on LinkedIn. Engaging with cash flow planners, finance managers, not to mention some old friends, has been a pleasure.
Come and find us on LinkedIn to talk Cash Flow Planning, Business Modelling and more.