Enter your email below to receive your 12-month profit and loss template, delivered straight to your inbox, for free!
(we'll also send you a weekly roundup of financial planning topics from this blog. It's good stuff and you can unsubscribe at any time, so please consider sticking with us!)
A Profit and Loss Statement is a financial report, sometimes called an Income Statement or Income and Expenditure Statement.
It's an essential tool in your business' arsenal. It'll help you measure the efficiency of your business, a key indicator for investors. It'll also forecast future patterns of how your business will perform year-on-year.
A good profit and loss template:
Has equations to calculate totals
Places your figures into the correct financial accounts
Creates a professional financial report with ease – rather than expertise!
But, as you may discover, there's more to profit and loss than templates.
Our template is suitable for businesses of all sizes as you can add or remove levels of detail to suit your business.
Got your template?
Good stuff!
Let me explain how to use your template.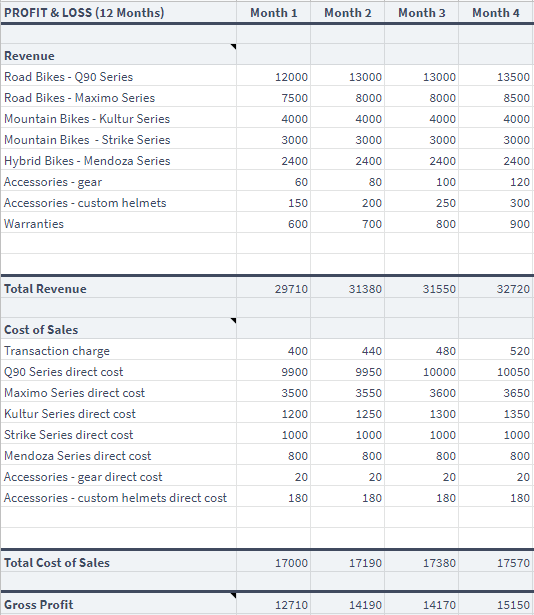 ---
How to use your profit and loss forecast template
Hit file, then "save as" for Excel or "make a copy" for Google Sheets
Fill out each section by adding your forecasted figures in the white cells
Pro-tip: if you're not sure what each section means, hover over the cells to get a brief description of what you should enter there.
Remove or add costs that are applicable to your business.
Formulae will calculate totals automatically
Duplicate the sheet and add different figures into the white cells to test different "what-if" scenarios
Check out the charts at the top of the spreadsheet to see your total reveue, gross profit, operating profit & net profit projections visualised.

Simple as that!
---
Why it's important to forecast your profit and loss statement
The point of any forecast is to explore how you get from your current financial position to where you want to be.
The profit and loss, surprise surprise, specialises in outlining the profitability of your business. Simply put, it can demonstrate how successful your business is at making money.
To get a bit more technical, it shows whether your business model is working (or not!).
You can use a forecast of this report to help identify the changes or growth in sales needed to become profitable (if you aren't yet).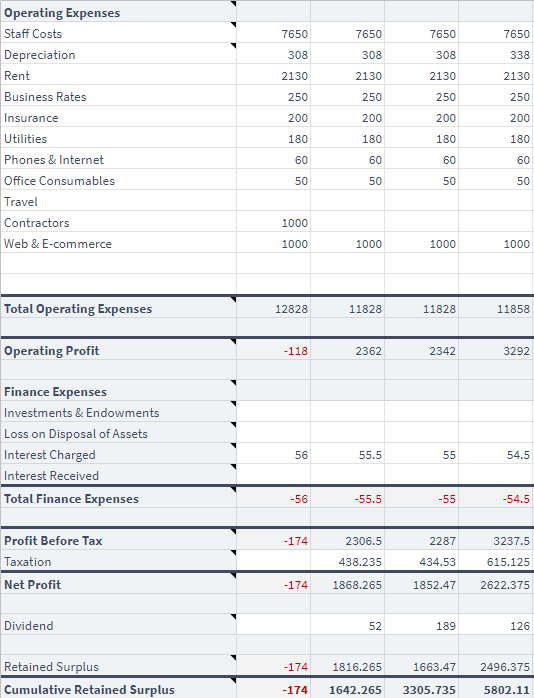 It helps you analyse this in detail by presenting every financial activity that could create a profit or a loss, broken into categories.
You might be wondering why you should forecast your Profit & Loss over your Cash Flow. The short answer is, you shouldn't. You should forecast both!
Here's the long answer…
The P&L forms part of 'the big 3 financial statements' – P&L, Cash Flow and Balance Sheet.
Each one specialises in presenting a different angle of your business. You don't really have a full picture of your businesses financial health if you just look at one in isolation.
The P&L differs from your cash flow because it includes non-cash items (like sales you've invoiced but not yet received the cash for). It also excludes cash items that have no impact on your profitability (such as VAT).
By purely looking at activities that impact profit, it gives you a clearer picture of business performance that a pure cash flow based approach can obscure.
If you'd like an easy way to forecast your Profit & Loss, Cash Flow and Balance Sheet at the same time, take a look at our financial forecasting software.
You can also forecast your cash flow with our template available here.
---
Introducing Brixx – financial forecasting for forward-looking business owners
Brixx is a financial modelling tool created for business owners to effectively map out their financial future.
Using simple inputs, you can forecast the 3 key financial statements up to 10 years into the future. All the reports and charts generate simultaneously which is a serious time saver.
When you save that much time generating reports, you can spend more time on the interesting stuff like modelling scenarios.
And modelling scenarios is really where Brixx shines.
You can model the impact of today's decisions on tomorrows financials to make sure you make the right moves for your business.
If you find yourself needing a bit more than just a simple spreadsheet to plan the future, try our free trial. We also suggest that you take a look at our article "Excel And Google Sheets vs Software For Financial Forecasting" to help you decide which method would be best for your business.
Brixx also offers a Partner Program which is ideal for accountants, business coaches or anyone looking to manage multiple clients in tandem. Read more about it here: "Financial Forecasting For Accountants – The Brixx Partner Program".