So, you want to start your own clothing business? Welcome to the guide on how to do just that.
My name is Cal. I'm a privately contracted artist and fashion designer. I'm also a Digital Marketer for Brixx! With my knowledge and experience of the fashion industry, I'm going to help you take your first steps towards starting your own clothing brand
Let me introduce what we're going to be covering.
Firstly, we're going to be covering the ideation process. What clothes are you going to be selling? Are they going to be your own designs, or are you reselling clothes?
Once we've completed the ideation process, we are going to be researching your potential market. Who's currently in the market and can you do it better?
Next, we'll be getting onto the fun part of having your own clothing business: designing/ manufacturing your clothing and discussing the best methods to sell it. We're also going to start with creating a business plan. Essentially, what's the plan of action?
Finally, we'll be covering the financial aspects of starting a clothing business. This will include forecasting and obtaining funding.
This article is a change of pace in comparison to others I have written. I'm going to be speaking from both personal and professional experience I have gained since getting into fashion.
If you want to get more in-depth regarding each of the topics in this article, I suggest reading our series on How to Start a Business in 90 Days. It is a fantastic resource which is extremely thorough. Make sure to check it out!
---
Ideation – Idea Generation in the Fashion Industry
This is the easiest, yet hardest part of the whole process. Coming up with ideas is easy, coming up with great ideas is hard.
If you're curious how I got into fashion design: When I was in school and college, I had mates who had a new designer backpack or pair of shoes every few weeks. Of course, being a teenager, I was jealous. I was wearing a beat-up pair of Vans and a Topman backpack.
So I went into a charity shop and found an old Burberry coat which I bought for a tenner. I ripped it apart and sewed the material on top of my beaten-up Vans. To be honest with you, it didn't look great, but it worked! Next day I went into college, and people really liked them and asked me to make them a pair. Then the rest is history.
Although I didn't plan to make money from making those shoes, it did help me come up with an idea to make items of clothing from reused designer materials.
Think about what you want to do. Do you want to be selling your own handmade dresses? Do you want to create your own branded designs then print them onto existing items of fitness clothing? Or perhaps you even want to simply resell high-end fashion?
Identifying what you want to do as early as possible is imperative for your businesses future.
Let's go through some ideas on what kind of clothing labels you can start.
In-house manufacturing – off the peg / ready made
Are you bringing in pre-made items then customising them? This is the most common route that people take when starting their clothing brand. It's a great way to produce quality items that represent your business. Pre-made items such as t-shirts and jackets can be cheap when bought in bulk, meaning they have a great profit margin when being resold.
Some examples of this type of business are:
Sneaker customisers

Graffiti labels
In-house manufacturing – bespoke tailoring
This is more or less my territory. Yes, I do customise pre-existing clothes when requested, but most of the time, my work starts off with measuring and cutting material.
Bespoke tailoring is when you produce clothes, by hand. Due to how long it can take to make items of clothing from scratch, bespoke items usually have a higher market value. This is also due to how unique the item is. Furthermore, the materials you use cost significantly less than it would to buy the exact same thing ready-made.
Speaking from the heart, making things from scratch is a lot of fun. However, it can also be the most infuriating thing you've ever done in your life.
Some examples of this type of business are:
In-house clothing design – outsourced manufacturing
Creme da la creme of starting a clothing line. If someone was to ask me "I like fashion, but I don't know where to start, what would you recommend?" I would say design your clothes and outsource your manufacturing.
I love this method of making clothes. You don't even have to make your own designs. Hire a friend or a graphic designer and give them the specs. The only thing you have to do is provide funding.
Some examples of this type of business are:
Most high street stores

Online boutiques
---
Market Research
So you've got some ideas, let's start researching some similar businesses.
It's important to do this. How else are you going to price your products?
First, if you could describe what you want to do in one sentence, what would it be?
"I want to design and print alternative style clothing"
"I want to resell vintage fashion"
"I want to design and tailor suits"
We've got some good keywords to start searching for. I'm going to focus on designing and printing some alternative clothes.
A simple Google search of "alternative clothing" comes up with a great range of different clothing labels and boutiques.
Have a look at the prices of pieces similar to what you want to make. See if the intricacy of specific prints have different price tags to their simpler designed counterparts.
When undertaking your market research, don't be afraid to turn to forums to ask questions. Here, people with past experience and knowledge are surprisingly helpful. It's also a great way to start networking with like-minded entrepreneurs.
---
What do I need to start a clothing business?
I'll go through how to get this funding later. First, let's look at what exactly the business will need, so we can find out how much money we'll need to get to start and run the business.
This part of the process is great for tweaking, and maybe coming up with new and improved ideas.
Equipment
What equipment, if any, do you need to make your business… a business? Think of things such as sewing machines, overlockers, embroidery machines, DTG (Direct to Garment) printers etc.
These assets come at astronomical costs. Can you afford to buy these assets outright or on credit? Hiring a third company to do some or all of the process for you may seem like a more feasible idea. However, it's not always cost-effective as overheads will increase dramatically.
There are low cost, low revenue, low risk ways of starting and higher cost, higher revenue, with more risk. And then everything in between.
If you're starting your business buying expensive equipment on credit, yet you don't make enough revenue, then the high risk of trying to save money in the long run isn't worth it.
By evaluating the risks of large capital purchase vs smaller, more regular costs, then you have a better understanding of how ambitious you can be with your business.
Insurance
Insurance is imperative for starting your journey in the fashion industry. There are 8 main types of insurance you should consider when looking to purchase clothing business insurance.
Bear in mind, and I cannot emphasise this enough, make sure you know exactly what your insurance covers before you purchase it. I know a few people who didn't read as thoroughly as they should have, and their insurance became invalid. Read the small print!
Also, this one is a biggie. Your home insurance probably does not cover all aspects of your business. If you're working from home, make sure to comb through your home insurance, and get the appropriate business insurance.
Contents and Stock:

No matter what kind of clothing business you decide to run, you're selling clothes at the end of the day. If something was to happen to that stock, it could be devastating for both you and your business. Content and Stock insurance covers you in case something were to happen to your stock.

Legal Expenses:

Basically what it says on the tin. Legal expense insurance covers the fees of hiring lawyers for the settling disputes between both clients and suppliers.

Theft of takings:

No, not theft of your stock – theft of your cash. If you own a brick and mortar store, or perhaps a stall at a venue, you'll be dealing with cash. Theft of takings insurance usually covers between £500 to £1,500 worth of stolen cash.

Buildings Cover:

If your place of work (home, office or shop) was damaged or destroyed, then this type of insurance pays for architects or cleaning costs. Usually, "damage" is in reference to fires and flooding.

Employers' Liability:

This type of insurance covers costs if one of your employees gets injured because of work and they pursue legal action.

Public and Product Liability:

If someone is hurt on your property, or you damage someone else's due to your businesses activities, then this is covered by public liability insurance. If someone gets ill or is injured because of your product, then you will be covered by product liability insurance. These types of insurance are usually purchased together and come hand in hand.

Business Interruption:

Linking into buildings cover, business interruption covers the after-effects of floods and fires, by providing funding for you to relocate your business temporarily.

Cyber Cover:

In my opinion, cyber cover is a must if you have any kind of online business dealings. It covers costs related to cybercrime and any backlash you might face as a result of it.
If you'd like to learn more about insurance for your specific type of business, I recommend checking out our Guide to Business Insurance, Structure, Licenses & Permits.
Materials
I'm going to openly admit it, I'm a hoarder. I have so many sample materials, scraps and cuts which fill huge boxes. At this point, you might think I'm weird, so this probably comes to no surprise to you.
The reason I do this is so I can evaluate all the materials I have for specific projects whilst determining whether they fit the client's specification.
Are the materials you use going to be sustainable, vegan, or eco-friendly? The higher quality or harder to obtain items are going to be considerably more expensive than their more common or cheaper alternatives.
These are all things which you need to consider when we get into the financial plan.
Designing
Depending on what type of clothing business you're planning to launch, the design process can either be long, or really really long. If you're producing graphics to print onto t-shirts or embroider onto caps, designing those to be a high print quality can be difficult.
No matter what type of designs you're making, remember that it has to be physically possible to be produced. There's no point designing a Penrose triangle, only to find out it's impossible to make.
Manufacturing
Once you've got your designs, you need to take them to the manufacturers. In some cases, you may be the manufacturer. However, if you're producing items in bulk then it is likely for a third party to handle this stage.
It is important to find the right manufacturer for you. Reliability, quality and price are the three things you should primarily consider. Take your time and shop around. I advise asking for samples. Not only is it a good way to know what you're getting, but also a great way to begin a good relationship with your manufacturer.
Prototyping/ Samples
Once you've found a manufacturer, it's time to get a few prototypes and samples made.
It is important in the designs that you include as much meta information as possible. This information is extremely beneficial to your manufacturers as it should contain the schematics and measurements for your designs.
Once you've received your prototypes, how do they weigh up against your original idea? Do they meet your expectations? Do they also meet the expectations of your target audience?
Sales channels
Luckily, we live in a world where we don't have to own a physical brick and mortar shop to sell products. Although potential customers can't try on your clothes, the internet allows for an exponential increase in potential customers.
There are so many platforms and sales channels out there to sell your clothes and receive some great feedback. Setting up your own platform has never been easier with tools such as Shopify and website builders.
However, marketplaces such as Depop and Etsy cannot be beaten for hosting budding clothing businesses. They're fantastic for reaching potential customers, whilst ensuring the
safety of its sellers and buyers.
Payment terms
Your payment terms are important when starting a clothing business. Seriously, this area requires a lot of consideration, and I can guarantee you that you will change it in the future.
If you're selling printed t-shirts, fine. Your payment terms may be that a customer pays upfront and then you send the t-shirt.
However, in regards to bespoke clothing, it gets quite complicated.
When you're spending days or weeks on a project, and a lot of money on the materials, you have to think about the prospect if the client doesn't want to pay or decides he doesn't want your services anymore.
Therefore, most people resort to one of two types of payment agreement. The first being a percentage deposit, where they ask a percentage of the total price of the project, usually between 10% and 40%. The second payment term being an upfront amount to cover the cost of materials. I use this payment team, as my materials are either new or reused designer materials from existing handbags, clothes or accessories.
---
Funding and forecasting your clothing business
Before I get onto this section, here's some advice. Don't be put off if your first few ideas don't actually turn out to be viable.
The whole point of this process is determining the viability of your ideas and startup costs. You may think it's a great idea now, but your bank account might not think so in the future. With so many clothing brands starting as hobbies or bedroom businesses, experimenting with different niches, materials or business models at the start can be low cost compared to a lot of other businesses. But when you're trying to take your business to the next level and start to make a livelihood from it, you need to look seriously at how to fund your business.
Now you've got your idea and the general idea of costs, let's put it through some stress testing and forecasting.
Understanding the funding costs can be a deal-breaker for the majority of ideas. Wanting to make superb-quality items, which are highly eco-friendly yet extremely affordable is unfortunately not a feasible idea. I wish it was, but it isn't. And trust me, making dozens of t-shirts from scratch in a day isn't feasible either.
Funding, whether from yourself or a third party is imperative to any startup. I recommend reading our article on How to Fund a Small Business or Startup in 2020, where we go into great depth about bootstrapping, self-funding and borrowing.
Without further ado, welcome to Cal's crash course on financial forecasting for a clothing business.
First things first, to forecast well you have to be realistic and be honest with yourself. Saying it's going to cost £1 in total to make and ship a t-shirt is unreasonable. Call suppliers, email manufacturers and ask for quotes to give you an idea of what prices you're expecting to face.
Secondly, as we're starting a clothing business, we have no historical data. Historical data is the best thing to use when creating a financial forecast. So, use the next best thing: Google. Search in Google what other people faced when they started a clothing business. Look at their sales. Learn from their mistakes, so you don't have to learn from your own.
Use the right tool for the job to make forecasting easy
The final step is to visualise what you want your business to be. If you're anything like me, numbers are hard to visualise. There are tools, apps and software out there to help you do just this.
I recommend Brixx. Although I didn't have it when starting my brand, I recommend it to everyone I know (and no not because I work here). Brixx is genuinely a great tool for modelling your business, or potential business in this case.
I'm going to be using Brixx as it helps me visualise my numbers, as well as giving me the quintessential details by providing real-time report generation for scenario testing.
If you want to make your own forecast, but not with Brixx, I recommend checking out our Profit and Loss, Cash Flow and Balance Sheet templates.
In this forecast, I'm starting a business where I'll be a sole trader selling clothes which I've printed my own design onto. I'll be forecasting my first year of trading.
Although t-shirts can be worn all year round, I recommend reading our article "8 actions to fix off-season cash flow woes in a seasonal business" as it's fantastic for clothing businesses that focus around different seasons and collections.
Forecasting your clothing startup's income
Firstly, where is my money coming from?
I've got three t-shirts which I am printing and selling, a vaporwave tee, a macintosh vibe tee and a pixelart tee. These are my income components.
Like all my t-shirts, I'm selling them for £20 each. As you can see, as the months pass, the amount of t-shirts I predict I'll sell increases. However, I'm selling the vaporwave and macintosh vibe tee when I open my clothing business, whilst introducing my pixelart tee in November, three months after I open. You can see this here, on the Timeline.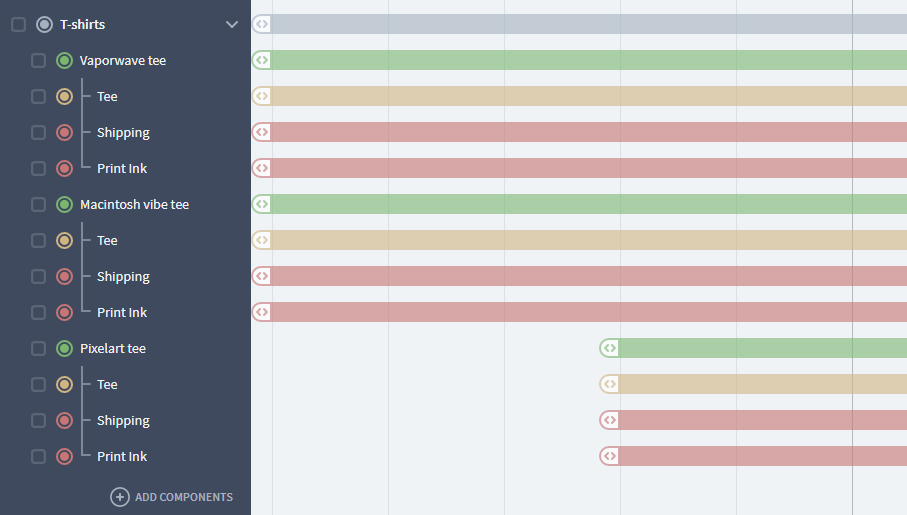 In the first picture, you can see that each tee, or income component, has two Cost of Sales and one Inventory Component linked to it.
A Cost of Sale is a cost associated with the creation or delivery of a product or service. Both the cost of sales, shipping and print ink, are exactly that. The shipping and packaging costs me £3 per shirt, and it costs me 50p of ink per shirt to print.
The inventory component is the purchase of blank t-shirts. It costs me £7 to purchase a single blank shirt.
In total it costs me £10.50 to sell a printed t-shirt. However, this doesn't include other running costs.
Although this forecast is related to a business where the total price of the product is paid for upfront, think back to the payment terms section from earlier on.
If you are selling products where you take a percentage or part of the payment upfront, then the rest at a later date, then your cash flow will be affected in different ways.
Forecasting your clothing startup's costs
Apart from the costs of sales which are associated with selling my t-shirts, there are two other types of costs which my business has.
Startup Costs
My startup costs are related to my initial investments, and the money I need to have spent to have an operational business.
Firstly, I purchased a DTG printer for £1000 on credit and I'm paying it off over the next 6 months.
I also made an initial investment of £500 to cover costs such as initial inventory purchases, marketing and insurance.
Running Costs
With my startup costs covered, I now need to think about my running costs. These costs include expenses which I have to pay to keep my business safe and running.
They also consist of insurance, marketing and website/email handling service.
I also have one off costs for setting up a stall at an exhibition to sell my clothes, and purchasing a new computer.
Forecast Summary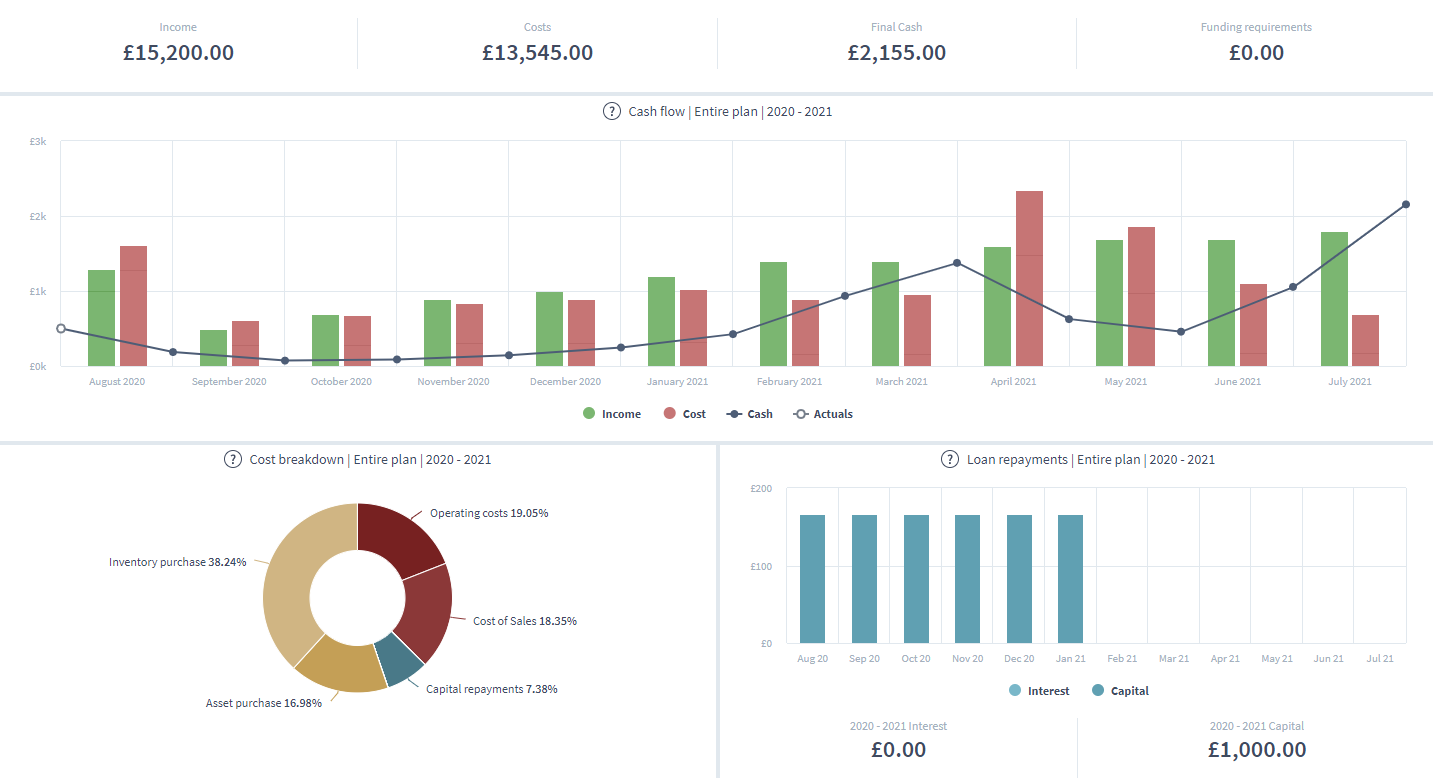 Here is my dashboard in Brixx. It shows my first year of business.
If you're anything like me, you're a creative rather than a financial expert. Visualising your numbers like this can really help your understanding of the future.
However, when dealing with your businesses' financials, you will have to deal with the three key financial reports.
The key financial reports, your cash flow, profit & loss and balance sheet are an organised representation of these fundamental accounting records. It's these reports that you'll be analysing to aid your decision-making process.
Brixx, our financial forecasting tool, helps you with this process further. The software handles all the accounting work. When you enter any forecast activity, the data is visualised instantly. This gives you more time to make clothes, and less time spent on trying to figure out accounting.
A free, no-obligation trial, means that you can try out Brixx and see for yourself how easy financial forecasting software should be… try it out for free today!
---
Growing and scaling up your clothing business
So, you've started your business, let me be the first to congratulate you. However, you're not done. You've still got to grow your business! I've got some tips for you to start growing your business.
Have ambition – You must already have ambition if you're taking the initiative to start your own business. It can take a lot of effort to turn a startup into a small business and further. Take on big projects. Step outside your comfort zone. You can do it. I believe in you.

Have caution – All that being said, don't spend every penny you have on an insane computer rig with two 2080ti's because you want to do some graphic design. So have cautious ambition.

Plan to succeed – Keep driving your business, because no one else can for you, especially at the beginning. It's going to take up time, and you may even have to sacrifice things to give it more attention, but you will soon reap the rewards.