In this article, we are fully focused on your financial projections. Check back to part 1 and part 2 for the earlier parts of your startup business plan.
We've broken down making a financial plan into 5 steps – here's what you'll learn in part 3:
Structuring your plan effectively
Filling in the gaps
Making 3 (or more!) different scenarios

High Revenue
Low Revenue
Worst Case

Understanding your financial reports

Cash Flow
Profit and Loss
Balance Sheet

Presenting your financials in your startup business plan

General Assumptions
Sales Forecast
Startup Costs
Running Costs
Salaries & Contracts
Funding Requirements
5 Year Cash Flow Forecast
A 5 Year Profit and Loss Forecast
Your 5 Year Balance Sheet Forecast
Scenarios
We'll finish with:
Plans for the future
Exit Strategy
Risks
Section 10: Appendix
Before we start, you're going to need a spreadsheet or a piece of software like Brixx to build your financial plan in. If you don't fancy trying Brixx (free, no credit card trial by the way ;)) then we also have a free cash flow template which you can build your cash flow forecast in, we will also detail how to build the other sections as we go.
If you haven't yet, take a look at "Financial Planning And Analysis (FP&A) | A Brief Overview" to learn more about the role of FP&A in your business and "Excel And Google Sheets vs Software For Financial Forecasting" to help you decide on the best tool for your business needs.
---
Business Plan Section 9: Financial Plan
A financial plan is essential to any new startup's business plan. But it's also essential to you as a business owner, to give you a solid grasp of your finances. This is one of the main things we've been building up to throughout this guide.
Your financial plan should be 5 years long, with monthly figures shown for at least the first 12 months. In some cases, you may only be asked for a 12-month projection or a 3-year plan. But you can beat both of these expectations – and there are good reasons to do so.
5 years is long enough to plan what the business will look like when it has matured, something most startups don't think about. "But," I hear you ask, "how can I plan anything accurately over 5 years? I haven't even started my business yet!"
The answer is – you don't need to plan accurately that far ahead. Planning accurately more than a few months into the future is impossible. But plans do not need to be 100% accurate – they need to be well informed and grounded in reasonable expectations and research. Which is what this guide has been all about. Any long term plan you make will turn out differently in reality – but right now making that plan is the only way you can gain an insight into what might happen in the future.
A 5-year plan gives the business enough time to demonstrate what it will be like after its startup period – when it is fully established and running optimally. 5 years also gives you the potential to look to the future of the business – how it will expand its horizons after getting up and running.
In this section, you'll learn how to structure a complete financial plan. I'll be referencing Brixx heavily in this section as it is a tool that can help you with this process. The organisational principles we'll cover are applicable whether you're planning in Brixx or creating your own plan from scratch. Brixx simplifies things for you by completing all of the calculations for your reports and makes it easy to restructure and test your plan.
Why should you want to test your plan? Well, for a start, that's what a lot of investors will be asking you for! What happens if sales are lower, or a project doesn't reach completion on time? What happens if a vehicle breaks down and needs repairs or replacement? Can the business handle this – and what are the knock-on effects? All of these questions and more are easy to answer if every element of your financial plan is a modular component that you can add, change or remove without affecting the validity of the plan's calculations.
So, what's the aim of a financial plan? What are we going to get out of it and actually present in our startup business plan? Here's a quick list:
Three detailed financial reports:
And some quick takeaway information:
General Assumptions

Startup Costs

Running Costs

Salaries & Contracts
The three financial reports form the backbone of your financial plan, while the quick takeaway information is an easily digestible way of displaying this information.
Now, the three reports I mentioned above may sound intimidating – and the truth is they use language and concepts which can take a little while to pick up! While they seem a bit alien at first, what's important to understand is that each report is just a different way of viewing what's going on financially in your business. Each report is made of the data you have gathered, just arranged in a standardised way.
---
1. Structuring your startup business plan effectively
Throughout the topics, we've built up the costs, income, assets and funding that make up our businesses in a structure that looks something like this:
Startup Costs

Research

One-off payments (deposits, certificates)

Asset Purchases

Running Costs

Salaries and Contracts

Sales

Product/Service Type 1 (and costs of selling)

A Product/Service Type 2 (and costs of selling)

Your

Product/Service Type 3 (and costs of selling), etc.

Funding

Owner Capital

Borrowing

Other
It's a picture of every activity in your business. You'll probably have a lot more elements than this simple example. Your structure may be slightly different – it might have more sections, dividing the business into the categories you think are particularly important. It might have several sales sections for different routes to market, or types of sale event. These variations and others are perfectly fine. This structure isn't 'one size fits all' but a guideline of how you could plan your business.
The structure above works well as the backbone of a Brixx plan but is also well suited to making a plan outside of Brixx. In either case, there's another level of detail to this structure – which is where the numbers come in!
Building your Financial Plan using Brixx
In Brixx, you can rename and rearrange any element of your plan. This makes it easy to create the structure of headings (sections in Brixx) and subheadings (groups in Brixx) listed above. Under each group, you can add components to represent different individual costs, streams of income, assets and loans.
The beauty of this is that you'll be able to drill into this structure in your financial reports in Brixx to reveal the components that contribute to the calculations for each line of your reports.

Each component in your plan represents a business activity. Each has a form where you can enter simple information, which will then be calculated by Brixx and posted to the correct places in your financial reports and dashboard. Completing a Brixx plan will give you a 5-year financial dashboard, cash flow forecast, profit and loss forecast and balance sheet forecast.

How to break down your sales
While sorting your businesses costs into groups is generally an easy task, splitting down your sales into different groups of items can be tricky. How much detail should you include in your financial plan?
As we have discussed throughout these articles, the level at which you forecast your sales depends on two things:
What level of detail is important?

What level of detail is easily understandable?
If you run a sweet shop, you could break your sales forecast down into the hundreds of types of sweets you sell… This would be accurate, certainly, but would it be worth it? And would someone reading your plan (which could well be you!) appreciate you splitting out your products into so many different rows? Could they find the information they need – for example, that the high cost of some sweets makes them a less profitable item to stock than others, or that there is a dramatic increase in the sales of liqueur chocolates in the run-up to Christmas?
If you sell 100 different products, it may be best to sort these into 5-10 types of income instead.
Here are 4 ways you could divide up your products or services:
Seasonal trends

Prices

M

aterial or delivery costs to you, the business

Locations, or departments
Organising your products or services like this will give you, and anyone reading your plan, a more thorough understanding of how your revenue streams are built up, without overwhelming them with details.
Direct/Material Costs
Some costs are directly related to the sale of goods or services. If no items are sold, no expenses are incurred.

Under each item or service that you sell, remember to account for the costs of providing these services. These costs will rise and fall depending on how much you forecast selling – so a good way to plan for these direct costs of selling is to plan for them as a certain amount per unit that you sell, or as a certain percentage of each sale.
Some things that the business sells have value and are assets to the business until they are sold.
You can drill into your products to see a breakdown of any direct costs associated with them:
Making a plan structure without using Brixx
Throughout the weeks, we've been using Brixx as an example quite a bit! And it's here at the financial planning stage that Brixx becomes a really useful, time-saving tool. But, if you prefer to do things another way, the same structural principles work just as well outside of Brixx as within it.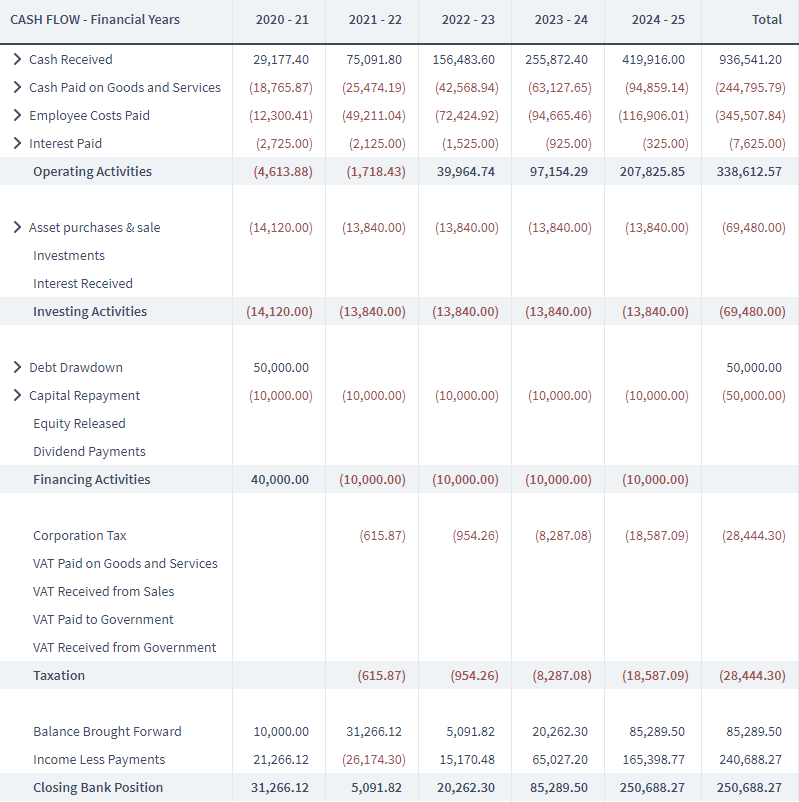 In a spreadsheet, create the structure above, add rows below each subheading for each item in the plan – that is to say – each cost, income, asset purchase or source of funding that make up your business. I mentioned earlier that we're going to be making a 5-year plan and that the first 12 months need to be especially detailed. For each item enter the expected amount that you will receive or be paid each month. Some items, like one-off costs or purchases, will just have 1 entry for the whole 60 months of the plan.
Related: How to create an effective financial forecast with no historical data
---
2. Filling in the gaps
At its heart, 'accounting' is about making sure everything is 'accounted' for. The first thing to do when looking at your structured plan is to make sure there is nothing missing. Throughout this guide, we have touched on the areas common to most businesses – but your business may have costs or financial arrangements that have not been covered in this guide.
Missing data
Read the headings of your financial plan – and if there is anything that has a financial impact that hasn't been included so far, add it now – and if necessary create a new area for it in the structure of your plan.
VAT and Tax
It's good practice to record VAT received on income and paid on costs separately from the rest of the income or cost in your financial reports. For example, if you sell a product for £120 including VAT your cash/revenue from the sale of this item should be recorded without the additional VAT amount – £100 instead of £120. This is because the VAT you collect from selling this product doesn't belong to the business. A good analogy is that the business is acting as a tax collector for the government. The VAT you collect from sales should be recorded separately, as it will need to be paid back to the government, less any VAT you have paid on VAT-able expenses.
In Brixx, Income, Cost and Asset components all have VAT options that you can use to calculate VAT (or GST or Sales Tax) in the plan.
Inflation
One element we have not discussed so far is inflation. A 1-year plan does not have to account for inflation, but over the course of a 5-year plan, your costs and the prices you can charge will rise. In Brixx, you can add an inflation assumption to your plan under Settings.

Your Plan Timeline
One other thing you may not have included in your plan up to now is when things happen. There are two sides to this – delayed cash payments and the actual timings of when your purchases, launch dates and big bills actually happen.
Delayed cash payments
In Brixx, the timing of payments is handled by a 'Delay' option on most components, which causes the cash flow part of the component's transaction to happen a number of months after it affects the profit and loss report.
You should state clearly what your assumptions around how quickly the business gets paid are, and how quickly it pays its suppliers. For example, you might assume that you will receive the cash payment from your sales within 30 days of making the sale.
When things happen on your timeline
When you launch a business you don't end up footing the bill for everything on day 1. In fact, as we've seen a lot of the costs of starting a business come before the business opens its doors! Before you start paying your employees, you have to find them, interview them, build a team.
Related: 7 things startups need to know when employing staff for the first time
In Brixx, we developed a way to make these time-based changes easily, without disrupting the integrity of the plan's finances. Every component in the plan sits on a timeline. The Brixx timeline will be familiar to you if you've ever used project planning tools or Gantt charts. Each component has a bar that you can move around and extend or shorten to show when it happens in the time compared to everything else in the plan.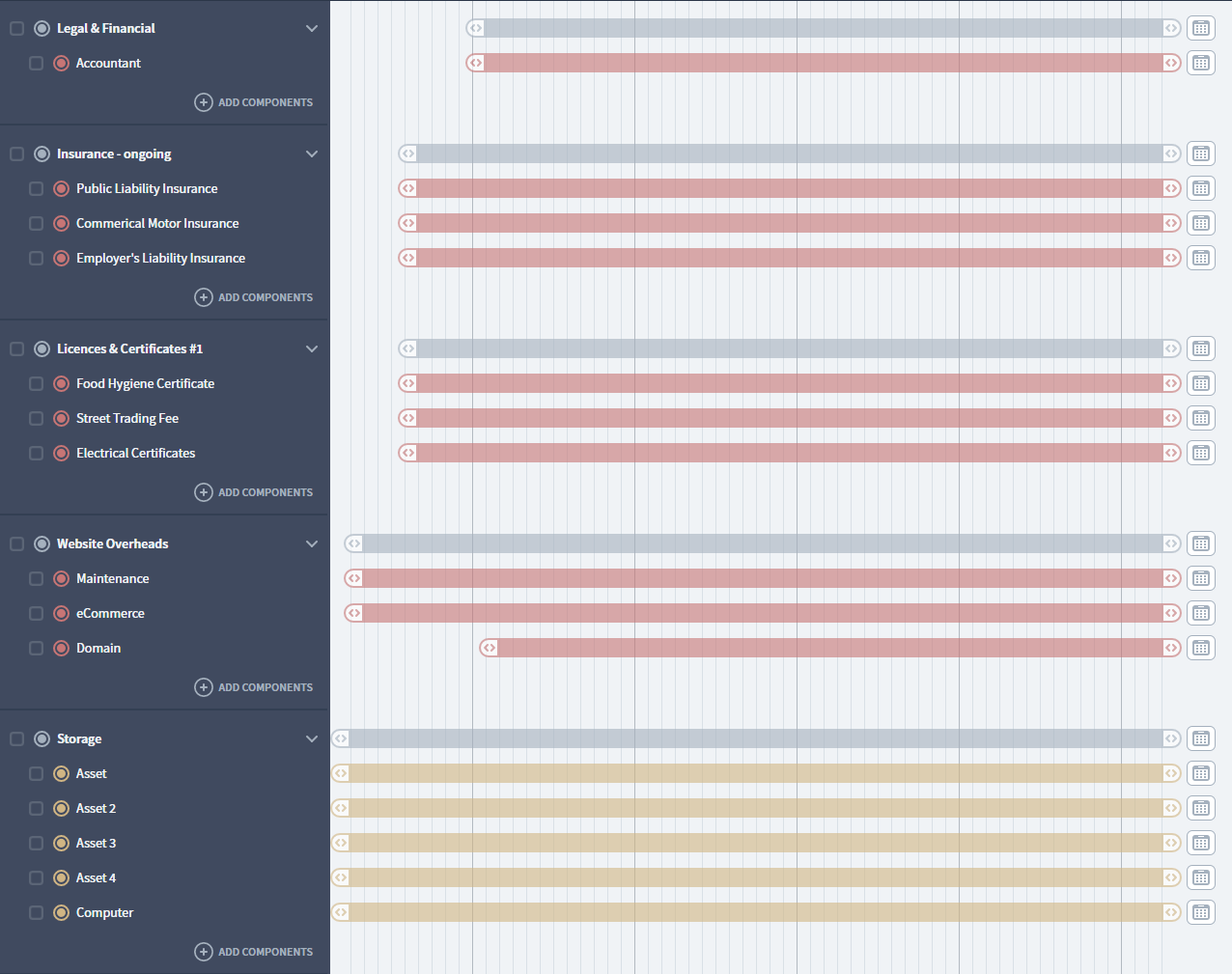 Gantt charts like this are commonly used by project planners to help plot when different aspects of a project will happen (and may prove useful to you next week!). Brixx takes this a step further by having the component's position on the timeline determine when it performs its calculations, sending figures to the Dashboard and Reports.
The purpose of all this is to make it easy to move financial activities (like buying a vehicle) around in time, and clearly see when all of the different parts of the plan are taking place. Time is often forgotten in planning, but when and in what order things happen can have a big effect on your cash flow, and thus your financial plan.
---
3. Making 3 different financial scenarios for your business plan
Why would you make 3 (or more!) different financial plans? Because the plan that you've made so far is the one that is likely to happen, based on your research. But that doesn't mean it is going to happen.
At a minimum, you should consider 2 other plans – a high revenue plan, and low revenue plan. It's tempting to say these should be a 'best case' plan and a 'worst case' plan – but this is too extreme. If you've done your research correctly, and planned your business well, you should be able to avoid the 'worst case' scenario. But a below-average situation can still be trying for a business, especially when they are starting out.
An above-average situation may sound great, but doing well can have hidden costs. You may need to hire additional members of staff to cope with the increased business you are getting, pay more for delivering your products or services and be able to physically deal with the demand.

Making a High Revenue Plan
A high revenue or above-average performance plan demonstrates how your financials change if you do better than you expect. But – a little thought is required here. It's easy to make an assumption such as – what if sales are 10% higher, or what if sales grow more quickly than expected – but the ramifications of this assumption in the real world will also have an effect on your financial plan.
The simplest example is a direct sales business. If we assume that sales grow by 10%, this may not be possible without hiring another salesperson, a potentially large cost to the business.
Making a Low Revenue Plan
A low revenue or below-average performance plan gives you the opportunity to show how your business can weather the storm of a below-average year or unexpected costs. Of all the plans you make – this is one you should give a lot of thought to. You're starting a new business, and it's likely that your first year will have a few hiccups. Knowing in advance that you can handle these hiccups, or lower than expected revenue, will take a lot of the stress out of it, and save you both time and money when they do happen.
Say, for example, that you get 20% fewer sales, and one element of the business ends up costing twice what you predicted – these are reasonable concerns that any new business starting out might have.
The question you need to answer is – what does this mean for your financial plan?
Do you need to seek additional funding? If you are currently seeking £50,000 in funding, how much more funding would you require if sales were 20% lower? Work this out, and express it like this:

"If the business does not make 500 sales a month by December 2019, then we will need to seek an additional £10,000 before March 2020."

Does it prevent you from accomplishing certain future projects? "As a knock-on effect of low growth, we will need to push our new product line launch back by 6 months – however, even this change still allows us to retain a positive cash balance of £5,000 throughout the year.

Do drops in the sale of certain goods or services affect the business more than others?

Are there certain costs, or sources of income, that are more likely to fluctuate than others?
That's a lot of different questions, each requiring different changes to your financial plan in order to see their ramifications in your plan's reports. You can make a copy of your plan for each individual change to see its effects in isolation, and you could also have a separate plan which contains all of them! Just be clear with what changes you have made in the plan you present as part of your startup business plan.
This will help you explain the situation you are planning for alongside your Low Revenue Plan. You don't need to plan for every eventuality – just a set of circumstances that could happen and would result in poor performance for your business.
Making a worst-case plan
I said above this is a situation you should be able to avoid – but – making this plan and knowing the answers to the challenges it poses are going to be important both for you and for any investor who asks. This worst-case plan does not need to be included as a part of your startup business plan – but you do need to consider it and have it ready should it be asked for.
While making this plan may sound defeatist, it's not just asking "What if things really do go badly?", but also "what can you do about it?"
This financial plan imagines what happens things go worse than you anticipate. It should still be realistic – the costs in this plan won't suddenly skyrocket, but perhaps you make dramatically less income than you expected – at least in the first year.
Consider an assumption like "what if we make 50% fewer sales – what is the impact on the business?" or "what if sales do not grow at all during the first 6 months?"
What does your financial plan look like after making these assumptions, and is there anything you can do in order to keep the business afloat while it deals with the repercussions? Does it mean investing more of your money into the business, cutting some of the business' costs, or seeking funding from a bank or investor?
What you are exploring here are potentially real situations that you will need to deal with as a business owner. This is one of the reasons why completing a financial plan is so important. It's not just about presenting an investor or lender with financial reports, it's about giving your business the best chance of success and understanding the risks that the business could face.
Having a plan in place in advance for poor initial performance could save the business, and shows anyone looking at your business plan that you have thought seriously about the potential complications ahead and have planned accordingly to mitigate these.
Take your time – plan methodically
When making alternative plans for these scenarios, it's important to make sure you don't get lost in all of the changes you are making. A great way to keep your plans in order is to have a master plan that you never change and make your changes in copies of this plan.
Follow these steps and you'll find making alternative plans easy and stress-free!
Make sure your financial plan contains every element of the business.

Make a copy of your plan. Rename the original plan to include the word "Master" – this is now your master plan (it really is that simple)!

From now on, make NO changes to your master plan. If you find you absolutely have to make a change to it, you will also need to make this exact change to every copy of your master plan that you make.

In the copy you made of your master plan, you can now begin experimenting. Change this plan's name to include a description of what you are using this plan for – for example, "10% lower sales".

Whenever you need to make a new alternative version of your plan, make a copy of your master plan, rename it, and make changes to the copied plan.
This is both good practice and will allow you to see the differences between different versions of your financial plan.
Keep a note of what changes you have made to your startup business plan financials
The final, and most important thing to remember when making different versions of your plan is to keep notes on what you have changed in each plan.
In Brixx, you can write this as a comment on the components you have changed – but it should also be explained in the Financial Plan section of your business plan.
---
4. Understanding your financial reports in your startup business plan
Your financial plan section should include three financial forecasts:
Cash Flow

Balance Sheet

Profit and Loss (P&L)
If you've been building a Brixx plan, these will be automatically generated by your plan. It's important that you not only include these reports in your startup business plan, but also that you understand them.
Cash Flow
The cash that comes into the business, and the cash that goes out of the business. The Cash Flow shows when cash (digital or physical) actually changes hands in these transactions. To me, Cash Flow is the simplest report to understand, as it shows what is the case at any given time.
Before we move into the next section, you're going to need a spreadsheet or a piece of software like Brixx to build your cash flow forecast in. If you don't fancy trying Brixx (free 14-day, no credit card trial by the way ;)) then we also have a free cash flow template which you can build it in too.
The Cash Flow takes into account when cash actually changes hands, while the Profit & Loss accounts for when the transaction agreement takes place. Let's say you deliver a product/service immediately to your customer and they then pay you a month later. An electrician, for example, might complete some work, and then send an invoice for payment. The electrician's charge for their work appears on their business' Profit and Loss report when they send the invoice, but the cash payment only appears on their business' Cash Flow report when they actually get paid by their customers.
This delay between the sale happening and the cash being received is part of what makes the Cash Flow report so useful. Many businesses, even large and established ones, can suffer from a lack of ready cash. If this business can't pay its bills this will ultimately lead to the failure of the business. Making a Cash Flow forecast is a means of looking ahead and trying to foresee and mitigate these problems before they happen, identifying the periods and time and areas of the business that are a cause for concern, cash-wise.
Key questions the cash flow can answer:
How much cash in hand the business has every month

The consequences of projects, payments or purchases happening at unexpected times

The toll each type of cash flow has on net cash

Will the business stay afloat!?
Key cash flow information:
The cash flow is made up of several 'cash flows' – each representing different kinds of business activity, as well as 'bottom line' totals of these cash flows.
Cash Flows from Operating Activities
The day-to-day operations of the business: income from sales, minus the cost of sales, minus overheads like rent, electricity, paying interest and salaries.

Cash Flows from Investing Activities
The purchase and sale of assets, investments and income gained from interest on savings are recorded here. These are activities that in many cases are outside of the day-to-day running of the business. Initial asset purchases may be necessary to get the business up and running in the first place or replace existing assets that are crucial to the business but they aren't a regular part of the business's revenue stream or monthly bills.

Cash Flows from Financing Activities
Financing activities show where the business gets its funding from. Additionally, financing is cash received from sources external to the business, like loans or external investment. These financing cash flows also include dividends the business pays to shareholders and loan repayments to lenders.

Cash Flows from Taxation
The tax you pay and any tax refunds are included here.
Income Less Payments
This line shows the net cash movement in any given month, that is, the total of all the cash flows mentioned above. This is great for helping you identify problem periods of the year.
Closing Bank Position
The real 'bottom line', Closing Bank Position shows the amount of cash in your bank account/s at the end of each month. If this goes negative, the business has serious problems. This is why cash flow forecasting is so important, especially for small businesses. Splitting out these different cash flows makes this report easier to understand and also allows each flow of cash to be compared to the others. You may find for example that you have a healthy operating cash flow but the business' investing activities are taking too great a toll on the business' net cash flow to continue unabated.
To read more about the Cash Flow report – check out this article: A Beginner's Guide to the Cash Flow Forecast Report
Profit and Loss
The P&L records the profits and losses made by the business. How do you make a loss? It's a way of saying that something the business owns has lost value. The P&L takes into account when, or over how long transactions are agreed, rather than when cash actually changes hands.
Key questions the profit & loss can answer:
What are the business' Gross Profit, Operating Profit and Profit for a given period?

Can the business afford to take on new projects?

What non-cash losses is the business suffering?

How are dividends related to profit?
Key profit & loss information:
Gross Profit
Gross profit is revenue from sales minus the direct costs of those sales. This is often formulated as a percentage called gross profit margin, showing the cost of selling as a % of the sale.
Operating Profit
What is Operating Profit? It is Gross Profit, minus any indirect overheads (cost of goods, services and salaries). Operating profit shows how well the business can support itself by its activities alone and is, therefore, a useful gauge for whether a business can take on new projects or other costly activities.

Net Profit
Net profit takes into account all of the business' extra expenditure that is not taken into account under Operating Profit. This includes investments, interest charged, interest received and taxation.
To read more about the Profit and Loss report – check out this article: A Beginner's Guide to the Profit and Loss Forecast Report
And if you're still confused, here's my attempt at busting the confusion! How to understand the Profit and Loss Statement and why it's confusing
Balance Sheet
The Balance Sheet shows the financial position of the business at any given time, showing how what it owns (assets) balanced with what it owes (liabilities) and the money that has been invested in it (equity).
This all sounds pretty esoteric, but it boils down to "how risky is the business – how much does it own and how much does it owe?"
Key questions the balance sheet can answer:
Value of the business's assets

Size of the business's debt

What funds the business, debt or investment?

How risky is the business for investors?
Key balance sheet information:
Assets
These are what the business owns. Assets include physical things like cars and computers, and also cash and investments.
Liabilities
Liabilities are what the business owes. A business with a large ratio of liabilities to assets may be seen as risky as it funds itself with debts which must be paid off, no matter the state of the business.
Equity
Equity shows the net value of the business. It's the same figure as net assets – the businesses' assets minus its liabilities. Breaking down equity further, it shows who owns the business, whether this is a single owner or a group of investors.
To read more about the Balance Sheet report – check out this article:
A Beginner's Guide to the Balance Sheet Forecast Report
From these three core reports, you or an accountant should be able to work out any additional information you may be asked for.
---
5. Presenting your finances
There are many ways you can present your finances in a startup business plan. A good, structured approach is to lay out the key information and assumptions you've used to build your forecasts – and then present the 3 formal financial reports.
This gives readers a taste of the vitally important financial elements of the business, without having to sift through a financial report to uncover this information. The full reports are necessary for detailed analysis, and are a great standardised way of understanding and comparing business plans.
To start with, we'll look at five common types of key information that you should include in the Financial Plan section of your startup business plan. There are many, many more but these five are common to most new businesses regardless of their industry.
General Assumptions

Startup Costs

Sales Forecast

Salaries

Funding Requirements
Following these shorter snippets of financial information, you will present the 'big three' financial reports:
With each financial report you'll need to add your own commentary explaining why the numbers are realistic. How did you come up with them? You need to show they are well thought through and you didn't just make them up to look good.
If there are unknowns, that's fine. You just need to be upfront about them. Outlining areas you are confident about vs areas you are not so confident is just part of the process.
If you are demonstrating significant year on year growth you'll need to explain how that comes about too. What drives that growth and why you feel confident you can achieve it?
A common presentation of these reports will be 5 columns for each financial year. If it's relevant, you might break some of these out into more detail. For example you could show a year broken into 12 month periods in order to highlight seasonal sales (if you are going into a highly seasonal market).
Related: 8 actions to fix off-season cash flow woes in a seasonal business
Let's look at how to create and present each of these in turn:
General Assumptions
There are things that underpin your financial plan that may seem obvious, but nonetheless should be spelt out. Listing your general assumptions shows the economic reality your financial plan is operating in.
Again, this is starting to sound pretty theoretical – so here's some examples of the assumptions you've made in your plan that you need to spell out:
The rates of taxes you will need to pay
Inflation rates over the next 5 years, if you include this in your calculations
Interest rates on your borrowing (loans etc)
When you get paid by your customers
When you pay your suppliers
If you do assume that some payments to or from the business will have a delay, then add this to your list of general assumptions. For example, "I have assumed that there will be a 1-month delay on the receipt of cash on 50% of my sales."
Only list the assumptions that you have included in your financial plan.
Startup Costs
Listing the costs required to start your business proves that you have considered and researched the necessities of starting your business. Ensure that you split them down into different sections to make them readable.
In Brixx, you can use the Operational Cost component to represent research and one-off purchases and the Asset component to represent asset purchases. Asset purchases are unlike other costs in that they have an effect on the Balance Sheet forecast – they have a tangible value to the business.
If you have been building a Brixx plan you can use the startup costs figures from your Brixx reports in your startup business plan.

Sales Forecast
Sales. It's one of the most difficult things to predict, and one of the most crucial for your business plan. We've covered a lot of tips throughout this guide on how to plan effectively, and break down your sales forecast into manageable chunks – building up a financial picture of your sales from the bottom up.
You should include a sales forecast separate from your financial reports in this section of your startup business plan. A sales forecast shows how much you intend to make from sales over a period of time, broken down by your major products or services if relevant. You can also include other related information, like the number of units sold per month, and the direct costs of these sales.
It's really key to add commentary around the factors that will dictate your success. What needs to go well in order for you to reach these sales figures? Are your sales activities scalable? If you don't hit these targets, how will you identify what has gone wrong? Be thoughtful, honest and diligent with these descriptions. If you can't express this on paper, how will you cope if you need to explain this in person when you meet your potential investors?
Cash vs Accrual based accounting
So, here's a question. What's more important to display here, sales according to the Cash Flow, or Profit and Loss? We learned above about the difference between Cash Flow and Profit and Loss. The Cash Flow takes into account when cash actually changes hands, while the P&L accounts for when the transaction agreement takes place. Let's say you deliver a product/service immediately to your customer and they then pay you a month later. An electrician, for example, might complete some work, and then send an invoice for payment.
But – which month should you record the income for your sales forecast – when you do the work and send the invoice, or when cash actually changes hands? Should it be profit-based, or cash-based?
The most often used is profit-based. The sales forecast looks at the sales per month that the business expects to make, while further detail on the timing of the cash you actually receive will be shown in your cash flow forecast. A cash-based forecast will shed more light on how much cash is actually coming into the business, while a profit-based one would give the impression of higher revenues than a cash-based one, assuming you get paid after you deliver your product/services.
The period of time your sales forecast should cover will depend on how quickly the business reaches an even keel. If sales continue to ramp up for the first 12 months, show 12 months of the sales forecast. But if it takes 2 years for the business' sales to reach the level it needs to be sustainable, show 24 months in this section. Ultimately, the sales forecast is a quick and easy way for the reader to understand the revenue journey of your business, from day 1, to the level it seeks to maintain.
Whether you have been using Brixx or a spreadsheet, export your sales forecast figures, or copy the figures into a spreadsheet to present in your startup business plan. As I mentioned before, don't include any editable documents as part of your business plan. Instead, if you are using spreadsheets, export them as a PDF.
To complete the startup business plan I would present this information for all of my major product/service lines for as long as it takes the business to reach a self-sustaining revenue, though I may group several together into more general forecasts for product types.
If you do this, be prepared to be able to unpick this information and have predicted revenue amounts for each product or service available in the Appendix of the plan. The important thing here is to demonstrate a reasonable and thought out approach to your sales forecast.
Salaries & contracts
The cost of salaries and contracting work is often the biggest cost a business has. Lay out how much the business will be paying in salaries each year and the contractors it will be paying for services. You can display this information in a table or as an export from Brixx or a spreadsheet.
If it's important to explain your financial predictions, you might want to include headcounts for each year of your forecast. Discuss the types of hires you think you'll need to make each year to grow your business.
Don't forget to include pensions and national insurance payments, in addition to salaries. The cost of employing someone is much more than just the wages you are paying them!
Funding Requirements
Outline the funding requirements, if any, of the business, supported by data from your financial plan.
If you are looking to attract funding with your startup business plan, it will be necessary to spell out what you are using this funding for, how you plan to acquire it and show that your financial plan includes a sensible repayment schedule or any dividends you expect to pay to investors.
In many cases, investors are wary of investing in a business where the business owners have not made some form of investment in it themselves. The best thing to do in this section is honestly layout how the business is funded, the funding required, and what this will be used for.
Presenting your cash flow, balance sheet and profit and loss forecasts on your startup business plan
If you have a Brixx subscription you'll be able to export your Brixx plan reports to PDF, PNG or Excel. These can be included as a series of pages in this section of your business plan. Make sure that they are readable at the size you include them at. If you want to have complete control over their appearance don't forget that you can make changes to them in Excel and then export them to PDF.
If you have been making your financial plan without using Brixx, then chances are you've been building your plan in spreadsheets. When you present these remember to export them as a PDF!
When you are confident enough with these reports and how they represent your business, include a page along with the reports that highlight the most important facts from each report.
Plans for the future
Your financial plan is 5 years long. That's quite a long time! And the truth is that it's hard to plan accurately that far into the future. Instead, a five-year plan lets you think about what's possible in the future, opening up the question, "what next?" Over time, your business will change, grow and be capable of taking on new challenges.
Investors don't expect you to be able to predict with great accuracy what the business will look like in 5 years. However, they do want to see your ambition, your goals and your business sense demonstrated by your future plans.
You'll find the future easy to explore in Brixx. The timeline we mentioned above lets you set up future projects and change when these occur in your financial plan so that you can see the ramifications of these changes across your financial reports. This is one area where planning in spreadsheets becomes pretty time-consuming!
Will you…
Expand to a new site

Expand to a new country!

Hire more managers!

Increase salaries

Take on a new project/stream of business

Develop new technology, skills or practices to grow the business in new ways
These ideas are just the tip of the iceberg – but laying out your long term intentions for the business is an important part of your startup business plan – for you and for any reader. We thought about some other ways your business could express itself in week 4 when we looked at business models. These alternative business models could be ways for you to expand your business in the future, and crucially ones which you have already put some thought into.
Include a version of your financial plan which shows the effect of taking on these new projects or business models in the future
---
Exit Strategy
Not all startup business plans need an exit strategy. It depends on whether you are planning to continue to own and run the business, or if you intend, in the course of the financial plan you have outlined, to exit the company and take a substantial personal profit from doing so.
But for other businesses, it might be an important concern. Some businesses seek investment on the basis that the business will be grown, and then sold, with the investors reaping a profit from the sale of the business.
---
Risks
There are always risks when starting a new business. Your startup business plan document should be a persuasive tool to help get support for your business, but it should also be honest. The people who look at your business plan, whether they are investors or future-you, need to have the risks and your plans for mitigating them laid out.
In most cases, these risks will be financial in nature. The business doesn't make enough money – either because the product is not good enough, it can't attract enough customers, or there is a misalignment between what the business is offering and what the market requires.
---
Business Plan Section 10: Appendix
Depending on your business plan's audience you may need to include documents that support your statements and/or figures in the plan. These might include important staff member CVs and detailed market/competitor research data.
---
Week 13 Summary – Completing your startup business plan
The focus of this part has been completing the third and final part of your startup business plan. Congratulations you've finished a huge amount of work that many people never conquer.
You've now completed :
Section 9: Financial Plan

Structuring your plan effectively

Filling in the gaps

Making three (or more!) different scenarios

Understanding your financial reports

Presenting your financials in your business plan

Section 10: Appendix
Remember we covered the first 8 sections in part 1 and part 2 of this series – check out those articles for the earlier sections of the startup business plan.
In the next and final week, we are going to look ahead to the tactical aspects of launching your business and what you need to look out for when going for growth!