BUILD, MODEL AND TEST YOUR FINANCES
Prove your startup and grow your business with powerful forecasting features.
COMPONENTS
Build in any combination and choose the level of detail you need.
Build a plan from a library of modular building blocks.
Represent one or more activities per component.
Copy, move and rename to quickly build your plan.
A free account gives you access to most of the library including all income and costs.
Inventory, Equity and Investment components offer more powerful planning options when you upgrade.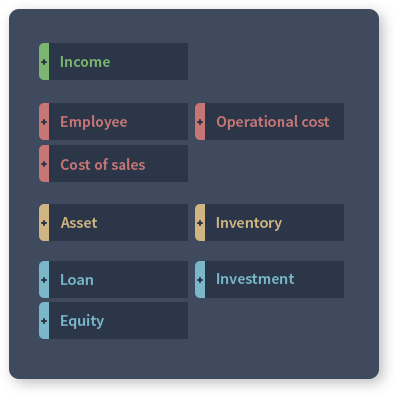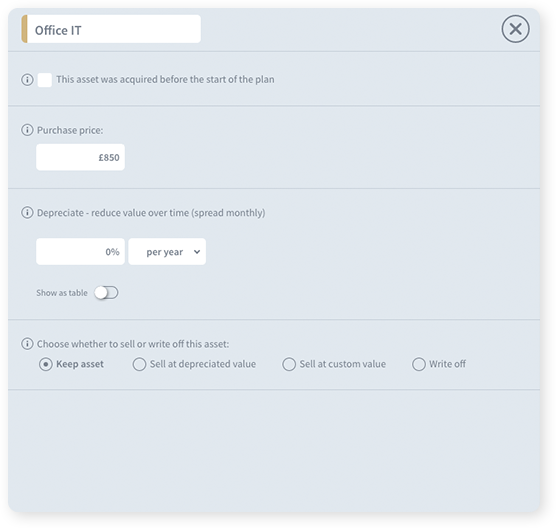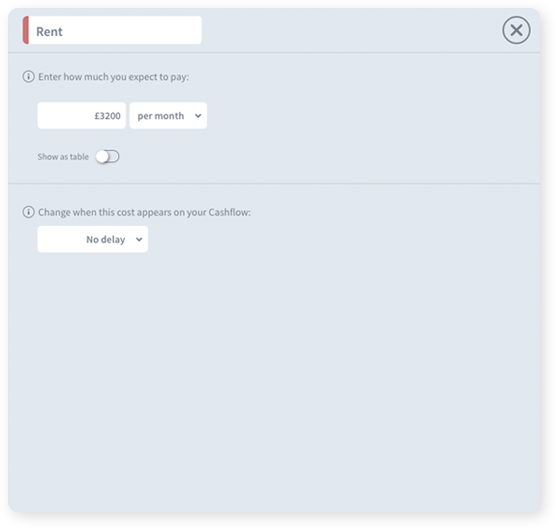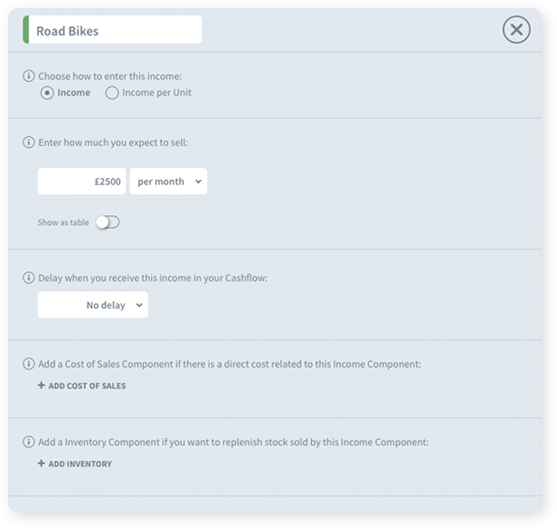 CALCULATORS
Each component helps you calculate financial activities.
Built in formulas.
Built in help.
Enter monthly, quarterly or annual estimates.
Automated or manual data entry.
Automatically grow figures each time period.
Calculated VAT.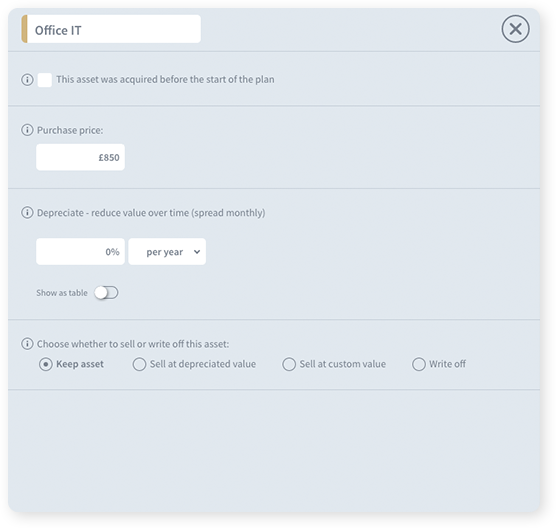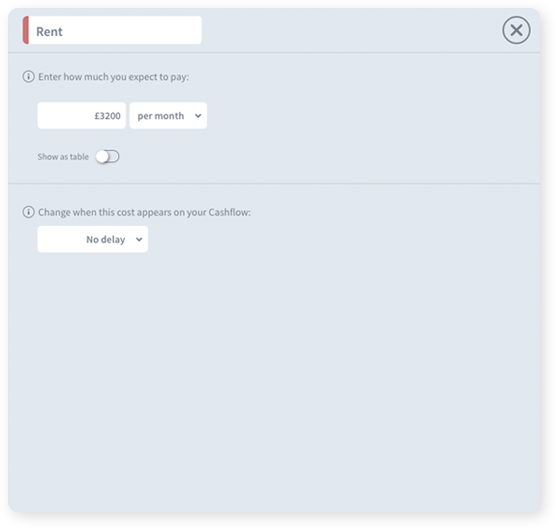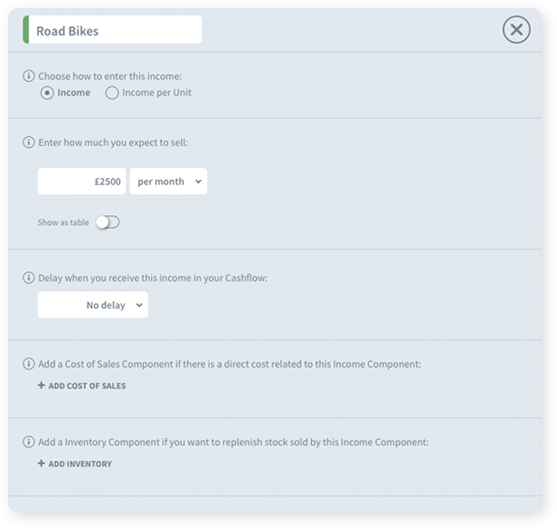 SECTIONS & GROUPS
Organise components together and build up a visual picture of your activities.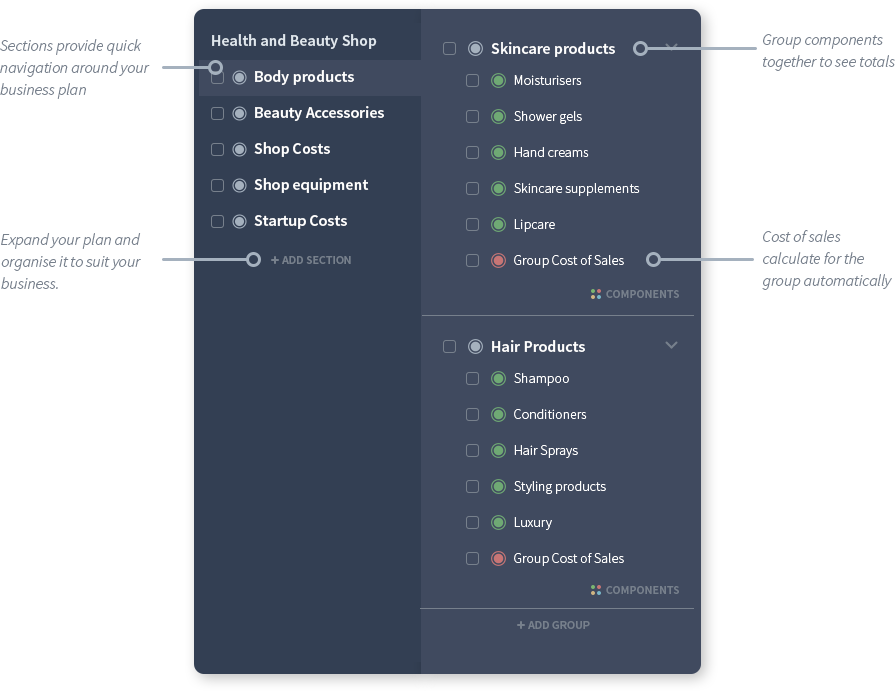 TIMELINE
See when all your activities happen and quickly make changes to timings.
See when activities start and end.
Drag the start or end date of any component.
Groups allow you to move multiple components at once.
CHARTS
Understand the future of your business at a glance.
The dashboard has been carefully designed to showcase all key parts of your business. From your general cash flow projections to the value of your business to how much funding you owe. It's the whole story. Hover over any element for more detail. Your components automatically fill every chart with numbers so you don't have to configure them yourself.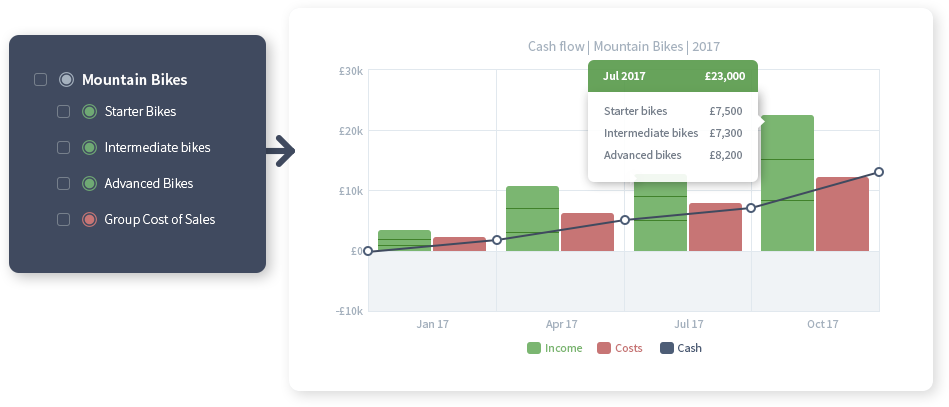 Cash flow
Cash flow
The cash flow shows your revenue, expenditure and cash position. The bars show figures broken down by the sections, groups and components in your model.
Loan repayments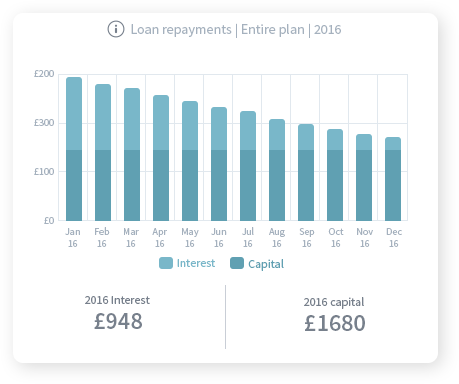 Loan repayments
Track your capital and interest repayments and understand when loans are paid off.
Breakeven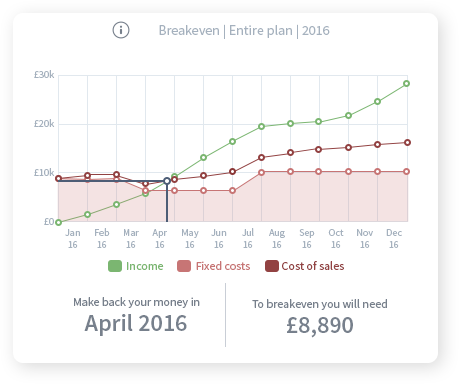 Breakeven
Find out when you will make your money back and how much you'll need to make to get there.
Cost breakdown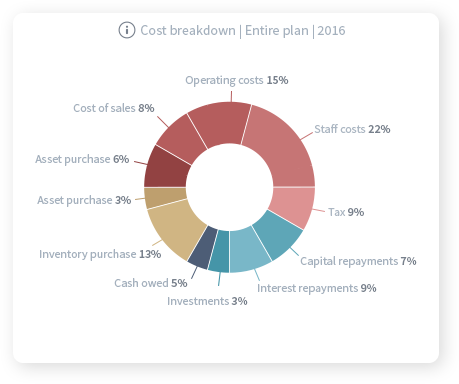 Cost breakdown
Break down your total expenses into all the different contributing types.
Asset value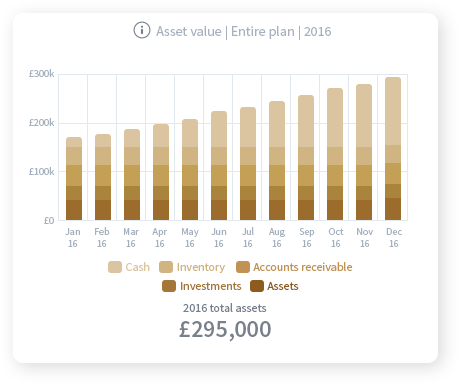 Asset value
See the value of your assets grow over time broken down by the type of assets.
REPORTS
Investor ready reports straight out the box.
Each report can be viewed in different time frames and can show monthly, quarterly or annual periods. Click any triangle next to a row to break the numbers down. Drill in three levels by the sections, groups and components that make up your model. It makes it easy to dig into the details and compare how different parts of your business performs.
The subscription version allows you to export any report to Excel, retaining full drill down capabilities for powerful customisation options.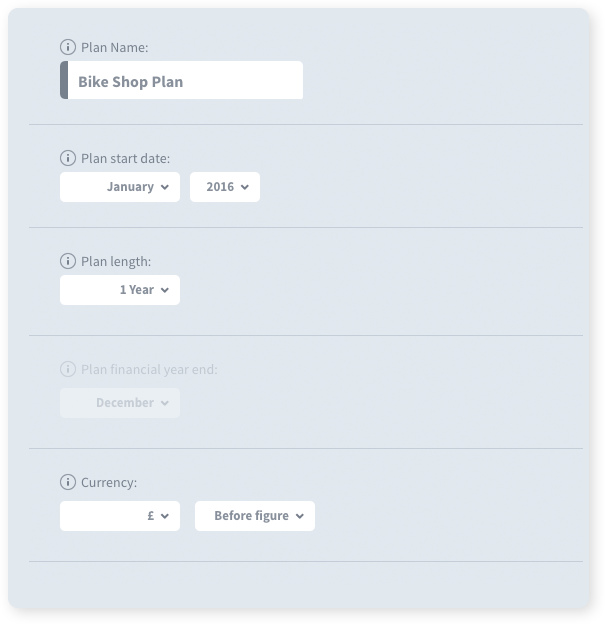 FINANCIAL TOOLS
Giving you more control over your model.
Forecasts can be 12 months all the way up to 5 years.
Roll your plan forward at anytime.
All major currencies supported.
Set an annual inflation rate.
Set an annual savings rate on all retained surplus.
Choose your financial year end.
VAT payments handled.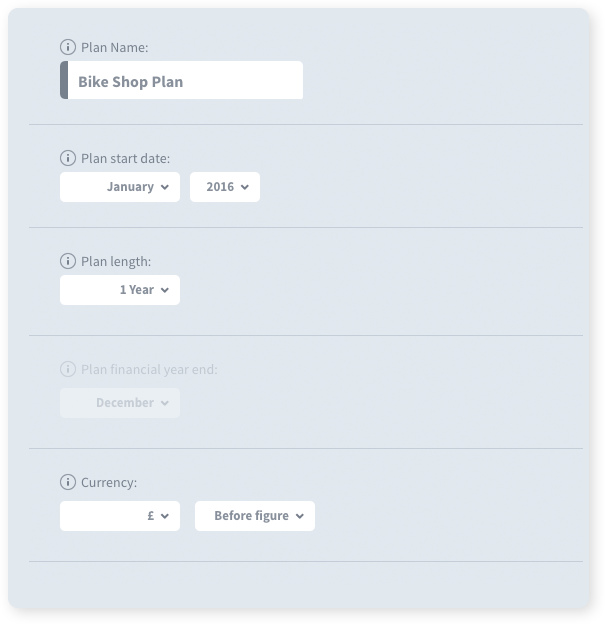 OPENING POSITION
Easily setup your existing business.
Brixx is designed with both startups and existing businesses in mind. If you already own a company you can enter your opening position with our opening balance tool. Components also have the option for existing businesses allowing you to accurately enter loans that are already mid-way through their term for example.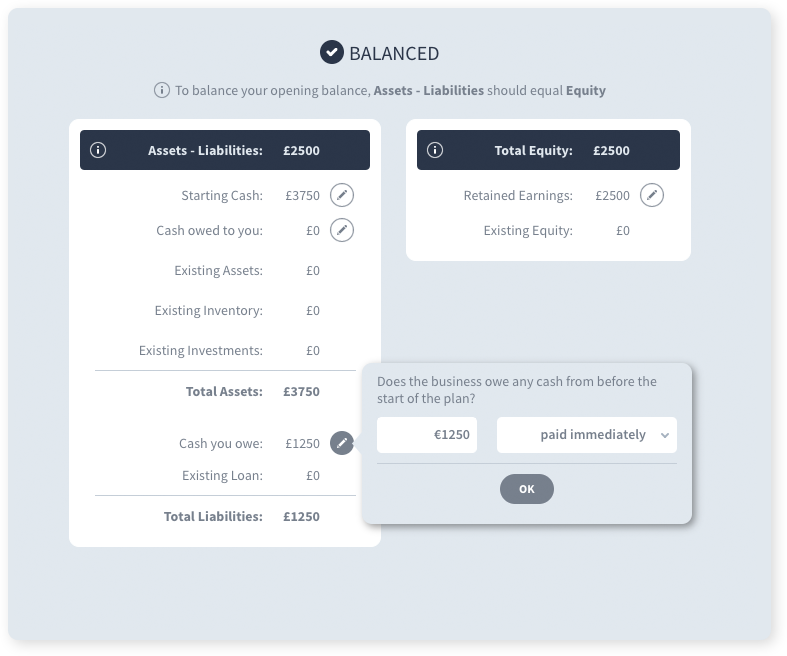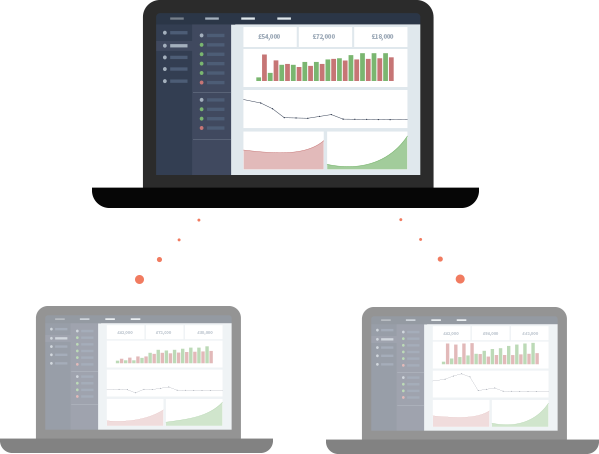 SCENARIOS
Stress test your business and plan the right path forward.
Changes are quick, updating every report

&

chart at once.
Turn any component or group of components on or off.
The timeline view allows quick changes to dates.
Change payment terms for the entire model at once, or by individual components.
Copy components, groups, sections or entire plans to try out alternative paths.
See the consequences of different financial assumptions.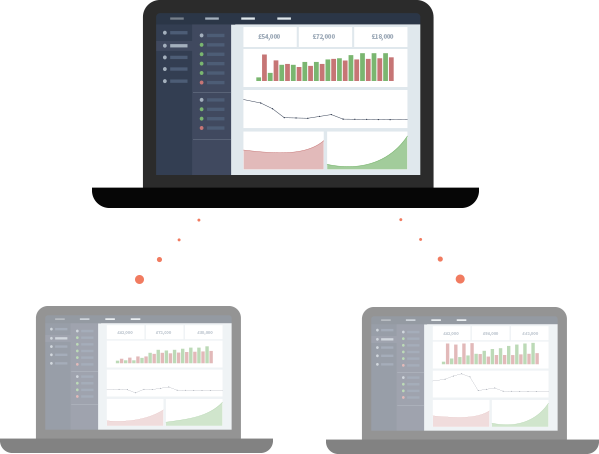 CREATE A FREE ACCOUNT
8+char
Numbers/special
Uppercase
Lowercase