Hi everyone, we've been working hard on improving our account area. This is where you create and manage your Brixx plans, enter profile information, upgrade your account and manage your subscription.
The account area is something we've been looking to improve since day one, and we hope that now the account interface will be more responsive, faster, with better controls and greater clarity in the way it displays information.
---
New Features
We've revamped the My Plans area to provide a cleaner interface which also delivers a lot more information.
My Plans – logos, sorting and a Bike Shop demo plan
The most obvious new feature is plan logos. If you have a subscribed account, each plan tile in the My Plans area can be given a logo (click on the cog on the plan tile to upload a new logo, and access other options for the plan like rename, copy and delete).
This logo could be a company logo, an image representing the stage the plan is at (I can think of a lot of good 'under construction' images, depending on the business type), or anything that will help you quickly recognise the plan.
When you download the plan's dashboard charts or reports, you'll have the option to include the logo you uploaded at the top of the chart or report – a nice way to brand your plan's outputs.
You can also choose how you sort your plans, using the drop-down in the top right of the screen. You can sort by date created, last edited, last opened or by alphabetical order.
Lastly, we have added the Brixx Tour to the My Plans page. Previously only accessible from the 'How it works' page on our website, the tour takes you through an example business plan for a Bike Shop, giving a demonstration of the different parts of the Brixx interface.
You can carry on and play around with this demo plan if you want to get a better understanding of how Brixx works (no changes are saved, it just a demo!).
Upgrade and Billing
The other side of our improvements has been the Upgrade and Billing pages. Previously, the Upgrade page was quite limited – now we've included all of the benefits of upgrading and made our pricing clearer.
Subscribers will now have a much-improved Billing tab. Our aim here is to to be as clear as possible. We've made it more obvious how to switch from monthly to annual billing (which comes with a discount, just to let you know), as well as how to cancel or renew your subscription.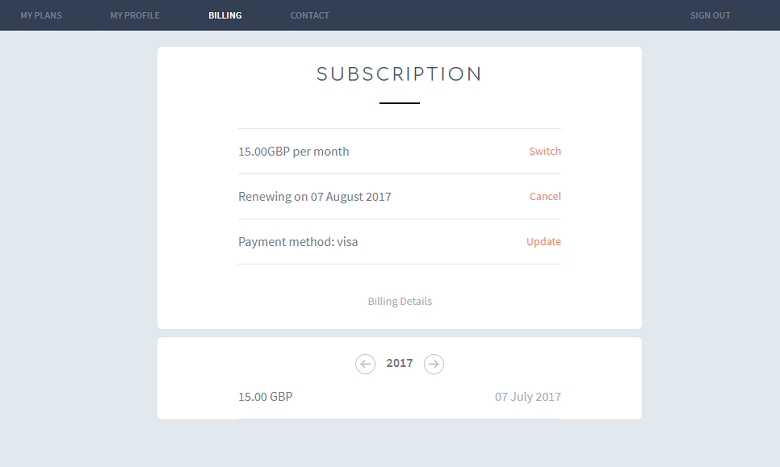 All previous payments can be viewed and billing details updated. If you need to change your card details you can do this through the account area, which will direct you to Avangate, our secure payment gateway.
Contact us
Finally, we have added a contact form to the account area. If you have a question, a problem or some feedback, let us know and we'll get back to you as soon as possible.
---